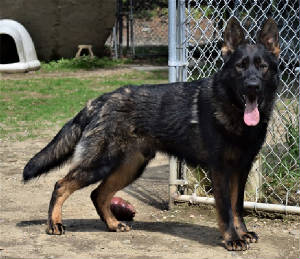 NordOsten's Chaos vom Konigsdorf OFA good hips, DM clear
We are happy to announce the arrival of our new stud prospect! Chaos is a gorgeous dark sable male out of Ziva vom Konigsdorf & Slobodan STASI. He is very smart, outgoing, friendly and solid nerves. Thank you Sarah Waldorf for this exceptional pup!
Foster pending
Chaos is available for foster to retire. He will be 5 in August 2023. He is a busy boy, good at nose work. He is good on leash but can be a little reactive, but more out of excitement or if the other dog reacts first. He has had some basic obedience but will need a refresher. He is good around people and kids and female dogs. He is good in the yard and crate. Loves to go for car rides and walks.
I would like to retain breeding rights for 2 years, so would like his person to be somewhat local. Call or email for more info.