Ruhler von NordOsten is a nice solid black male out of Halle von NordOsten & Bob vom Parchimer Land. He is 100% East working lines, OFA hips good, elbows clear, DM clear.
Ruhler has found a home! He is 6, going on 7 years old. He has sired several litters, easy breeder. He has had some obedience training, is crate trained, and is good in the house. Good on walks and loves to go for rides. He can be a handful, but is also a big goofball.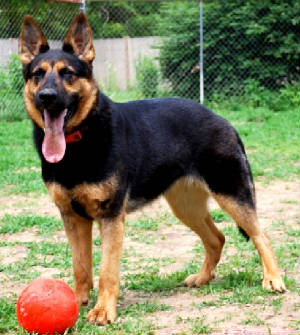 Zaide, hips & elbows good, DM clear.
Zaide is looking for a forever home. She is 7 years young and in good health, retired from my breed program. Zaide would do well in a home with no other dogs or with a confident male dog. Her last roommate was a male mini Dachshund who she got along fine with. She bonds with her people and tends to have a little separation anxiety when left alone, otherwise she is great in the house. She would be great for a retired person/couple who are home and can take her places and walks. Zaide loves to play fetch, very ball driven. I need her to go to the best suitable home where she can thrive and be happy. Serious inquiries only call 978-432-1235.