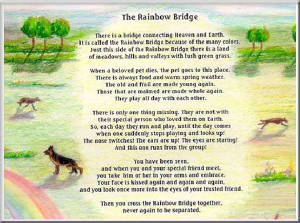 R.I.P.
Tula Von Barren Berg
1996-2009

Tula was my first pure bred german shepherd. Tula is out of Elsa Von Barren Berg & Quax Vom Parchimer Land. She is the mother of Jada and grandmother of Baila. Tula was very loyal & intelligent, she had the makings of an S&R dog, but I never had the time to persue it. In her younger days she had excellent drive, no fear when it came to obstacles and loved to play "find it", "hide-n-go-seek" & fetch. She could also scale a 4' fence no problem! Hips OFA Fair. We will miss our faithful companion.

Our love and our spirits never die, even though our bodies may be gone.
We are as faithful to you in the afterlife as we were when we walked beside you on the earth.
Sit very still, close your eyes, and feel the touch of our heavenly kisses upon your cheek. We will never leave you.
Jada is a nice saddled sable female out of Tula Von Barren Berg & Kliff Von Redifiner Land SchB. She has an excellent temperament, good with kids, love belly rubs and is very intelligent. Hips normal, elbows good. 90% East, 10% West working lines. Jada is the daughter of Tula and mother to Baila Von Barren Berg.
Jada is now living with Santino Spinale in Lowell, Ma.. Santino tells me she is a dream girl! Jada is loving all the one on one attention and neighborhood walks. Thanks Santino, for giving Jada a great retirement home she so much deserves! Jada turned 11 years old on 12/7/12 and is doing great.
So sad to announce the passing of my beloved Jada 11/16/2015. She was 1 month shy of her 14th birthday. She was loved by everyone who knew her and has passed along some wonderful progeny. We will miss her terribly but she will remain in our hearts forever.
We are deeply saddened by the loss of our beloved Baila this July 2015. She will always be remembered and will be with me always in heart & soul.
Baila is a nice sable female out of Jada Von Barren Berg & Reiko Von Hena-C SchH1, CD, TT. She has an excellent temperament, loves agility and is doing good in obedience. She is very sweet & good with kids and earned her Canine Good Citizen. Hips normal, elbows good. Baila is approx. 95% East, 5% West working lines. Baila is officially retired as of 5/23/11, and enjoying it as seen in picture. She is the daughter of Jada von Barren Berg & grand-daughter of Tula von Barren Berg. Baila has given me Danica & Josie to carry on her lines. Baila is my special girl who I will always remember and hold dear to my heart. She is being retired by her foster mom, Ann Taylor of Windham, NH where she will be loved and spoiled until the end of her time. (pictured at 7 years old)
Baila has been retired! Baila is enjoying her new home in New Hampshire. She loves the extra attention and enjoys her outings with her adoptive Mom, Ann and new "brother" Dillon and friend Jake. Thanks for giving Baila a great home Ann!
Diesel

is a nice large sable male out of

Jada von Barren Berg & V Reiko von Hena-C

CGC, TT, CD, AD, HIC, SchH1.
He has an excellent temperament with nice bone structure. Good with kids and other dogs and loves to play fetch.
(Diesel is Baila's brother).
Diesel has been retired and is happily living with the McKeown family.
Sadley Diesel has passed away in December 2015, he will be greatly missed, but never forgotten.
Max

is a nice dark sable male out of

Mesa von der Haus Gill & Panzer

von Wispernden Kiefern CGC, TDI, RN, CD (aka Onyx).
He has nice large bone structure, excellent
temperament, and is doing well in obedience & protection. Hips OFA Good.
We are saddened by the sudden loss of Max. He will be missed dearly by his family and those who knew him.
R.I.P.
Buck vom GrimOrkie CGC,TDI, BH
NOTE: Buck was not owned or bred by NodrOsten Kennel.
Buck is a nice sable out of To-Fast Enzo IPO3, BHP3 & v Jazzmine vom Ausland SCHH3. He has an excellent temperament, good with kids and other dogs. Belgium working lines, Hips OFA fair. Buck has been retired.

Yak is a nice Bi-Color East German Import out of V Sando Vom Haus Iris SCHH2 & V Wita Vom Hagenberg SCHH2 owned by Terri Townsend. He has an excellent temperament and great disposition. OFA Excellent, 80% East working lines. Yak has passed away and will be greatly missed. He has left us with some great progeny. (Yak was an Import and not owned by or bred by NordOsten Kennel)