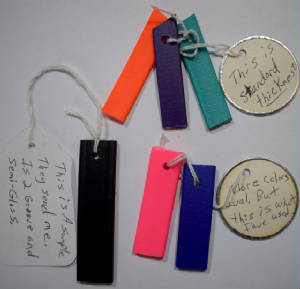 Above are some colors that the BETA now comes in. There are more colors, these are the most popular.
3/4" x 6' Black Leather & BETA Leads
BETA (Biothane) is a durable product that is weather resistant, easy to clean, flexible, long lasting material that feels good in your hands. I have become a big fan of it and now prefer it to leather, although I love the look & smell of leather. The BETA now comes in a variety of colors, the leather comes in black. You can order leads & collars in widths & lengths to your liking and your choice of brass or stainless steel hardware. Just call me to put in your order. 978-432-1235. If you would like to see what it looks like before you order, I have samples on hand at my house in Rowley.
Prices vary depending on widths & lengths, BETA or leather. Average 6' leads are $25.00-$35.00. Average collars are $20.00-$25.00, Slip-Collars run $10.00-$15.00.
6' x 1" Beta Lead &1" Slip Collar
Want to have fun in your own back yard? Click on the link below for afordable agility equipment!