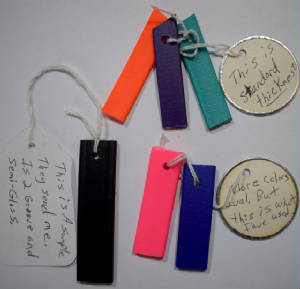 Above are some colors that the BETA now comes in. There are more colors, these are the most popular.
BETA (Biothane) is a durable product that is weather resistant, easy to clean, flexible, long lasting material that feels good in your hands. I have become a big fan of it and now prefer it to leather, although I love the look & smell of leather. The BETA now comes in a variety of colors, the leather comes in black. You can order leads & collars in widths & lengths to your liking and your choice of brass or stainless steel hardware. Just call me to put in your order. 978-432-1235. If you would like to see what it looks like before you order, I have samples on hand at my house in Rowley.
Orange BETA leads are great in the Fall especially during hunting season!
Want to have fun in your own back yard? Click on the link below for afordable agility equipment!