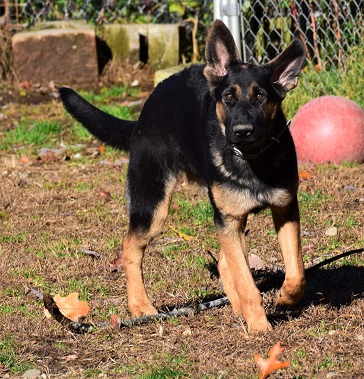 Liberty von NordOsten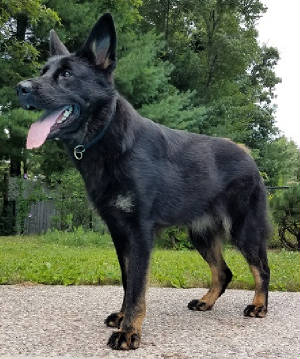 Zahra von NordOsten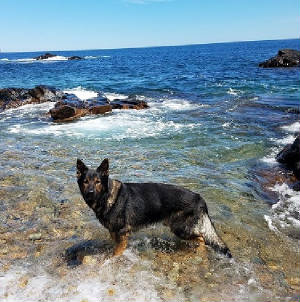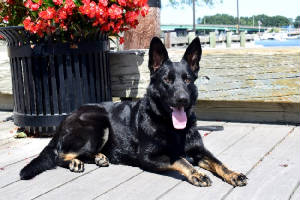 NordOsten's Heika vom Birken Wald has been retired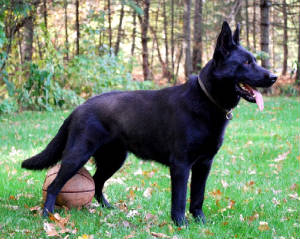 Halle has been adopted!
Hi Cathy,
Just wanted to send a few pictures of Raina from this year. She's doing very well and still full of energy! She and Chief are always playing and live to chase each other around the yard. I also saw a recent breeding of Nicklaus and Georgia. I'm not ready just yet but was wondering if you might have any plans to breed them together again.
Thanks,
Rob Huseland
Hi Cathy,
We had her to the vet Saturday afternoon, everything is great! And we learned that she loves to play with the water coming from the garden hose! It has been really fun having her so far. I'll keep you updated with how she's doing as well as pictures.
Thelma is having fun playing with Chester (her Basset Hound room mate) who she adores and gives lot's of kisses. She enjoys her visits to the Middlesex Fells chasing balls or just exploring the woods with her pack friends. Of course Thelma loves being close to her human family as well. Starting this Saturday, Thelma will begin Search & Rescue training. With Thelma's sweet disposition, high drive & intelligence, she will make an excellent Search & Rescue team member with Chester and Ava (her Golden room mate).
Peace, Love, Drool,
June & Chester
Thelma Update 5/20/12
Hi Cathy,
Just wanted to let you know Thelma is doing well and had an outstanding tracking training session with Joe yesterday. To our surprise, after testing her, we discovered Thelma is advanced in tracking. She had no problem following the scent trail including off leash to find the human, be it me or someone else at night or day. This past Friday night, Nora and I were practicing article scenting at night with Chester and Ava. We decided to test Thelma. The distance tested was about the length of two football fields. After giving Thelma an article to scent, she immediately was all business, putting her nose to the ground, moving at a steady pace (not pulling on the leash) like a pro following the exact footprints of the trail to the human hidden behind the tree. Before the test, the handler (Nora) had no idea of my direction (I was the tracklayer) or location of the glove or hidden human, nor did I when it was my turn as the handler when Thelma had to track and find Nora's brother (a stranger to Thelma, we used one of his socks as a scent article).
At yesterday's tracking session, Joe was impressed and amazed at Thelma's advanced tracking skill. She is either a natural tracker or had professional tracking training overseas as a puppy. Joe believes tracking is in her bloodline. He decided to test Thelma off leash. No problem, after taking scent of the article, she was on the job, nose to the ground and off she went in a flash, found me deep in the woods hidden behind a tree. We anointed her as the super star tracking dog. However, Chester is takes issue at this title, he says he is just as good as Thelma, but uses a slower pace in his tracking approach. Seriously, Joe wants a video of Thelma tracking off leash, as he likes the way she gracefully runs like wind and while blending in with the colors of the woods, like a coyote or wolf.
It is quite humorous walking Thelma and Chester together to the tracking location. So many people smile/laugh at Chester wearing his search and rescue vest while admiring Thelma's beautiful markings, These two are like the beauty and the clown.
Almost forgot, Thelma's new friend is a seven month old 13 lb Manchester Terrier named Zoe. I dog sit Zoe three days a week and pleased to report that Thelma helps me a lot by playing/entertaining Zoe at the house. It is wonderful to watchThelma play with Zoe in such a gentle way. After Zoe plays with Thelma, she is one tired puppy. Chester doesn't like Zoe and usually hides behind the couch when Zoe wants to play with him. He is quite happy to delegate this job assignment to Thelma. Gigi the cat doesn't like Zoe either and won't come down stairs until Zoe leaves the premises, but Gigi sure likes Thelma ( I think more than Chester). Chester says that is fine with me, Thelma can be responsible for Gigi too. Chester is quite happy to rest on his Chester couch after his many city walks or visits to the Middlesex Fells.
Peace, Love and Drool,
June