Indigo has been bred to Norm! Pregnancy has been confirmed by physical appearence. If all goes as planned, pups will be due early August 2017. This waiting list is full. If anything changes I will post it here. For more info call 978-432-1235.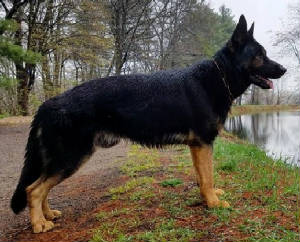 Norm von NordOsten, OFA Fair, Elbows Clear, DM Clear
Norm is a nice black & tan male out of our Sam & Lita. He has an excellent temperament, very intelligent with a great personality. Great with kids and other dogs of all breeds.