3 Females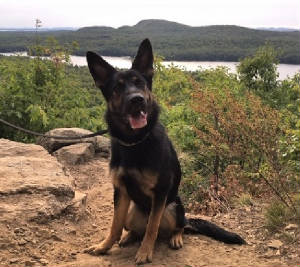 Pink ribbon black & tan female "Koda"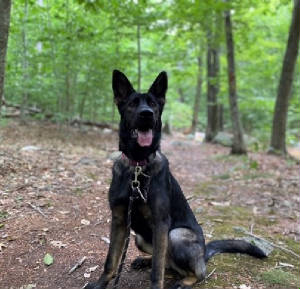 Purple ribbon sable female "Myka"
Hello Cathy!
Wow how time does fly. My family and I wanted to reach out with a quick update on Myka and Koda from Heika and Mayhems litter from December 2019. Both pups are doing fantastic and we could not be any happier. At 9 months old we cannot believe how loyal they have become.
Koda lives in Maine with my parents. She is working on obedience and contiunes to get better with time. They could not be happier with Koda. She is friendly and somewhat mellow and never stops making everyone laugh. Their love for Koda is always growing as both she and my folks learn about each other and strengthen their bond. She loves walks in the woods and running by the small river behind the house, splashing and jumping in and out of the rushing water.
Myka happily resides in Mass. and is truely so much more than we imagined. She has made it through her first two AKC classes with flying colors and now we are working on doing scent work as a hobbie, little by little. She has a very high working drive and endless energy. Her loyalty and love for us is constantly growing. We could not be happier with her personality overall happiness to greet friendly people and other dogs while still maintining a protective stature when needed even at such a young age!
The sisters absolutly cannot stand to be away from each other. They have been seeing eachother consistently (every 2-3 weeks) since we brought them home in February. Running through the woods and chasing their favorite toy (frisbee's), splashing through the river...these pups dont stop when they are together. Out in public these dogs are show stoppers. I have literally had people hold up traffic to stop and ask about the dogs. We couldnt be more proud of our beautiful, amazingly tempered companions.
Both pups are eating the Inukshuk 26/16 and they love it! They have also been recieving the NuVet plus vitamin on a daily baisis. Both pups range between 65-70lbs and are continuing to grow! We arent sure how long we should be feeding them that food blend? All is well otherwise, I have attached some pictures. Myka's sable coat is so colorful and Koda's dark, silky black and tan is stunning. Thank you for breeding such wonderful dogs. We will have further updates down the line. Take care and stay safe
-Chris and Kristin (Myks's owners)
-John and Nancy (Koda's owners)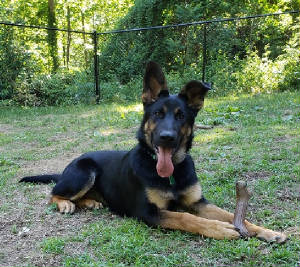 Red ribbon black & tan female "Hanna"
She's looking more beautiful than ever. And she loves a good game of fetch, just like her mom. And she brings back the ball or bone and PLACES IT DIRECTLY IN MY HAND. And the really amazing thing is i didn't teach her that. She started doing it on her own.
Beautiful and smart!