2 Males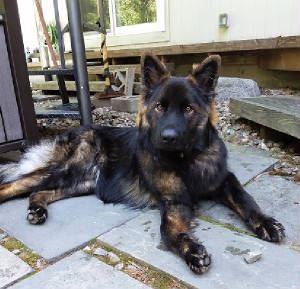 Blue ribbon sable male "Blu"
Hi Cathy !
How are you? I hope you and your family are doing well. Blu is becoming a big boy ! We love him so much. He is very strong- we are trying hard with the training. Any advice we will take ! do you have any pictures of his of brothers or sisters?
He is so handsome !!!
Hi Cathy-
I hope you are well. Blu is doing great... I look him to the vet he was up to 14 pounds !! we are doing the honest food and some kibble- so far so good ! He is a very good boy. Erica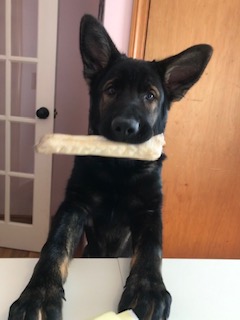 Green ribbon sable male "Bow"
Hi Cathy,
We FINALLY decided on the name, Bow for him. He's been perfect since we brought him home, first night he was very vocal but has slept through the night since. No accidents in crate and very minimal in house! He LOVES his big sister, Lillian, and try's to snuggle with her every chance he gets. He is very playful and smart, even knows some commands already. I have never seen a pup share how he does, it makes me laugh, Bow will go to the toy bin, get toys, and lay them around Lillian until finally she gets up to play with him.
Thank you for everything,
Mary & Paul