3 Females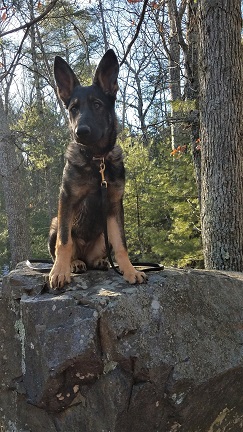 Red ribbon sable "Autumn" Keeping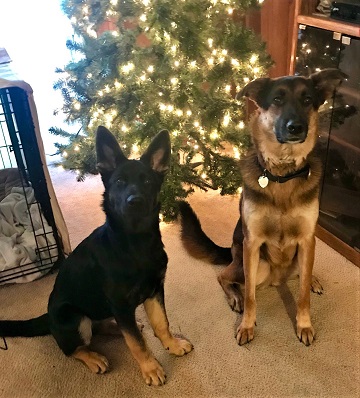 Pink ribbon black & tan "Journey" (left)
Happy Holidays from Journey. She is doing awesome! Well except for eating everything and I
mean everything which is very nerve racking. But she had a blast this week with my daughter's dog who was here for the week. They got along great. We are in our second puppy class and she rocks. She is so intelligent and picks up things so quickly. I think she looks a lot like her beautiful mom. She is funny and mischievous and we just love her so much. She loves her West Paw frozen treats (they are like Kongs) and afterwards she comes and acts like she is giving you lovings but she is really using you as a napkin as she wipes her face on your clothes. Lol
Hope you had a wonderful holiday season!
Donna
(Here is a picture of Journey with her best friend, my daughter's dog Nymeria.)
Hi Cathy,
Just wanted to let you know that Journey is doing great! She has started puppy school and loves it. She knows sit, down, stay and come. She loves learning new things with the clicker. She is an outdoor girl and loves running through the leaves and playing in the woods and digging in the dirt. She is very brave and daring. She climbs on everything! She loves meeting new people. The only thing that seems to scare her is bigger dogs barking. It was any barking but we have some barking puppies in puppy class so she got used to them. She is always wanting to play with the other puppies. I try to stick around a bit when the older dogs come in for the class after us so she can see them barking and find out all is ok. My daughter is coming for the weekend with her 3 year old German Shepherd mix dog so that should be fun. She is growing like a weed. She is very mischievous and funny. Every once in a while when she is not being a shark she will be a cuddle bug. We try to do or go some place new every day like the other day we walked around the private school right near us and she saw lots of high school kids and a field hockey game and people walking around with blankets wrapped around them and hoods and hats on. Everyone loves her. We love her and we are so happy with her. We are really bonding and she is making a wonderful new best friend. Thank you!
Oh and the instructor at puppy school asked me where I got her because she said she wasn't whiny like many GSDs. I think she meant it as a big compliment. Lol
Donna
Hi Cathy,
Just wanted to send you a quick update on Journey. She did great on the ride home. She conked out and slept most of the way. No whining or car sickness. After we got home she did find her voice. She is a vocal young lady! I also found out she was strong willed and determined. Obviously she was missing her siblings and mom and it was an exhausting first 24 hours for us both which was to be expected of course. She started settling in some yesterday. She loves our kitties and is dying to get to know them better but they are taking a bit more time. Potty training is coming along. A few times I wasn't quick enough but I'm getting better. She was a trooper last night having to go out in that storm. Plus we have a bear in the neighborhood the last few days and Journey already likes a spot over by the woods to do her business which makes it a bit nerve racking for me but it is a great spot. She loves everyone she has met and gives nice kisses. She does love to grab bare feet! Lol She is very brave. She has already experienced so much - a washing machine on the spin cycle, my hairdryer, the recycle barrel being brought back from the curb by my husband, umbrellas etc. We let her go up and check these things out and then she's just like - oh yeah, no big deal. :) She likes to go out about every two hours at night but last night she slept pretty well in between which was nice. I know she will be a great addition to our family and bring so much love and joy. I will send more updates soon.
Thanks,
Donna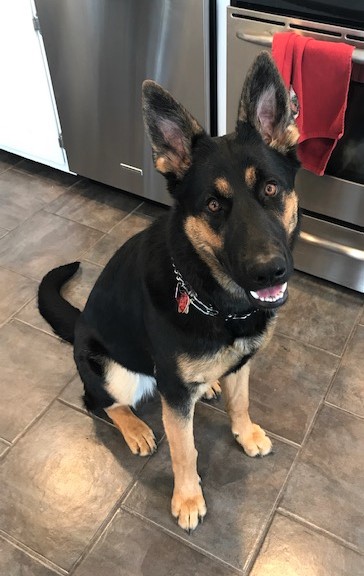 Purple ribbon black & tan "Vita"
Hi Cathy,
I hope you and your family had a most fabulous and delicious Thanksgiving and that you're all ready for this lovely bright holiday season!
We are very happy to get to spend it with our little Vita who is growing fast and brings us immense joy.
I dare to say she has been completely potty trained as the only accidents occur when she hasn't seen my daughter for a long time and gets overexcited. Vita absolutely adores kids!
At home she's a ball full of energy and a lovely addition to our family. Thankfully she has not chewed anything in the house she's been really good of sticking to her toys although the Christmas tree branches are incredibly tempting....
She is still crated during working hours but grandpa spoils her rotten by taking her on long walks during that time.
The snow is her new favourite thing! she loves the cold and would stay out in the backyard for hours if we didn't call her back in.
She's getting her last set of shots next week and will then start puppy classes, although she is really pretty good already on: sitting, staying, giving paw, going down and waiting off leash. We've been training her in the fenced in backyard.
If she continues this nice scented will have plenty of yummy gifts for her!
I wish you and your family all the best
Leo, Licia, Kira and Vita.

Good morning Cathy
I just wanted to give you a little update on how Vita is doing.
she is absolutely fabulous what a joy to have around!
She is growing fast and is now 22 lb!,
has lots of energy, is definitely teething and still working on potty training, but I would say we are 98% there.
Next week we take her to the vet for her first visit and shots and will start introducing her to other puppies.
She has been really good with children and adults alike and enjoys playing in the yard very much.
I hope all the other pups are doing just as well and wish you a fabulous rest of the week.
All the best
Licia