4 Females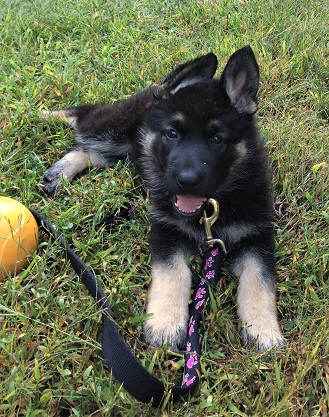 Yellow ribbon black & tan "Emma" Sold
Hi Cathy, Just wanted to let you know , Emma is settling in nicely.. Even starting to sleep thru the night !! We had her at the vet this week , he thought she was in great shape, and all the workers wanted to steal her away, they thought she was so cute..She weighed in at 16 pounds !… She is very sweet when she is not being a crazy puppy … She has learned to sit/down / come… Also doing great on potty training… Still needs some work of course, working on no and off.. She is doing great, life was just too quiet without her….
Thank you too, for the information about adequan for our other dog..I spoke to the vet about it, and now, I am doing the injections at home for him…hopefully it will work , I am optimistic..
Thank you for such a great pup, she is going to be a awesome dog, and beautiful too… We will keep you updated…
Peggy and Terry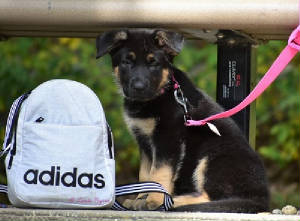 Pink ribbon black & tan "Ruby" Sold
Hi Cathy,
I thought I would let you know how Ruby (Pink ribbon) is doing. She is extremely smart and has been walking at Horn pond with me every day..p.s., I carry her alot! I'm working on crate training and she has been very vocal about letting me know she doesn't like it, but the past two nights it seems she is getting used to not being right up against my feet. As long as she can see me she settles down. I'm sure we will see if this continues. She sits for her food and water and is doing amazingly well at knocking over the Kong to find her treats! She is still having accidents in my apartment but does do well going outside as well. As you know, puppies need to go out many times so we are still working on that. She rides the elevator like a champ and knows the way off of it to our apartment. She even sits at the door most of the time when we get to it. She has walked on so many different types of things. Grass, paths of gravel, wooden bridges, cement leaves...etc. She amazed me the other day while walking a path deep at Horn pond. There is a dead tree across one path. I showed it to her and guided her the first two times over it. She was cautious but went over. The third time she jumped over it like it was nothing!!
She is doing the chewing things that all puppies do, and I'm redirecting her alot to try and stop it. She really is quite the character. She barks at her food/water dish when they are empty. She being likes to carry them around! One question I have is.. how do I stop her from talking back to me? She doesn't do it all the time but she does like to talk back when I correct her behavior.
She is the star among all my photographer friends and has many Aunts and uncles! They absolutely love her!
So, all in all she is adjusting pretty well with me. I know its only been a week but I just love this little girl!
I'm enclosing her first photos at the pond from last week and one from yesterday.
Hope you are well.
Linda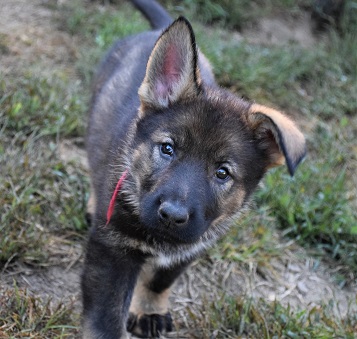 Red ribbon sable "Juno" Sold
Hi Cathy,
Just a quick note to let you know that things are going great with little Juno! She is such a great puppy with a wonderful temperament. She is adjusting to her new home and settling in well. Last night she went easy on us and slept ALL NIGHT LONG in her crate - ten hours, if you can believe it! (The two previous nights were really challenging, so we all deserved this.) I think we really tired her out. We've been taking her everywhere and teaching her all of the household rules. You were right, she is SMART! But I bet that most of your dogs are.
I'm so happy that Melanie put us in touch and that Juno has joined our family. I'll send updates from time to time, but just know how grateful and pleased we are with her first few days with us.
Cheers,
Tara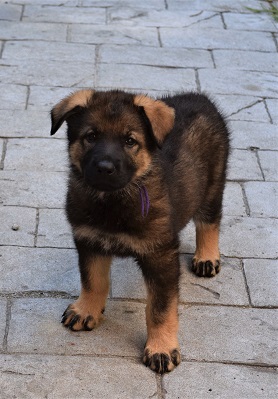 Purple ribbon sable "Violette" Sold