4 Females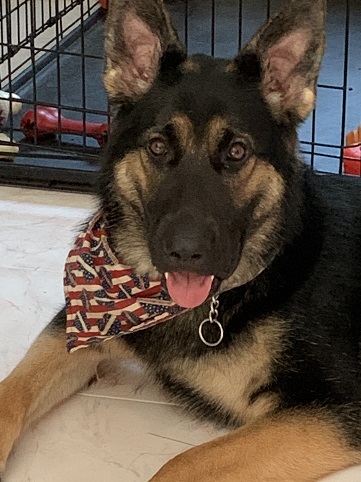 Yellow ribbon black & tan "Emma"
Hi Cathy, I just wanted to let you know Emma is a year old now and doing awesome ! We love her .. She is doing well at obedience and agility classes .. Everyone comments on how beautiful she is .. She walks beautifully on a leash, great with all dogs , and people, always up for a adventure. She is a great dog ! So happy we got her.. Still a bit much for her 11 year old Great Pyrenees brother, but getting there. They do well on walks together.. Hope all is well with you ! Thank you so much , for such a awesome dog ! Peggy and Terry
Hi Cathy, Emma is doing really well... She is smart, sweet, curious, does not seem to be afraid of anything... eats like she will never get another meal, and has a touch of fresh, and we love her ! She just graduated from puppy school , and now we are on to basic obedience classes... She seems to love everybody, and most all others dogs she meets... Everyone comments on what a beautiful dog she is , and they want to know where she came from.. She weighs 41 pounds as of yesterday. The tooth fairy has been visiting frequently lately , the biting/nipping is improving now thankfully ! We are very happy with her, thank you so much for keeping the east german line going...
Hope all is well with you , your family, and dogs, including Fiona ! Happy Holidays, we will keep in touch... Peggy and Terry
The picture does not do her justice but..she has a black shaped heart on her chest !
Hi Cathy, Just wanted to let you know , Emma is settling in nicely.. Even starting to sleep thru the night !! We had her at the vet this week , he thought she was in great shape, and all the workers wanted to steal her away, they thought she was so cute..She weighed in at 16 pounds !… She is very sweet when she is not being a crazy puppy … She has learned to sit/down / come… Also doing great on potty training… Still needs some work of course, working on no and off.. She is doing great, life was just too quiet without her….
Thank you too, for the information about adequan for our other dog..I spoke to the vet about it, and now, I am doing the injections at home for him…hopefully it will work , I am optimistic..
Thank you for such a great pup, she is going to be a awesome dog, and beautiful too… We will keep you updated…
Peggy and Terry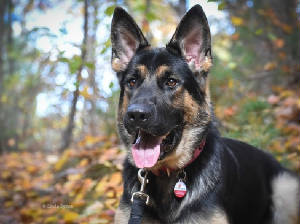 Pink ribbon black & tan "Ruby"
Hi Cathy,
I really can't believe that Ruby is 1 year old today! And I wanted to thank you for bringing this beautiful, intelligent, inquisitive, funny , cuddly, & amazing girl into my life! I don't know what I would do without her!
Hi Cathy!
Ruby is so amazingly smart and very vocal! As of last week she weighs 38lbs! Some of her favorite treats are apples, carrots, bananas and peanut butter. My vet has been helping me with her nails because I needed two sets of hands to get them done. She walked at Horn pond with me until it got too cold for her and now she stays in her crate and sleeps while I walk and take photos. I feel very guilty but we walk around my apartment complex. As soon as the weather gets warmer she will be right back with me walking the pond.
I'm sure you can just imagine her in the snow! She bounces around with her nose under the snow and wants to gobble it up! It's a real challenge to get her to pay attention to doing her business, but it makes me laugh so much.
She knows come, sit, shake, high five, down and leave it. I make her work for everything! She can also differentiate between several of her toys. The soft pink bone you gave her I call her 'Lovie' , I tell her her first two legged mom gave it to her and she still loves it. We are working on heel but I know this takes more time.
She is extremely fast and wants to gobble her food. I know she is getting enough so I'm hoping she will grow out of this... And she has already had to have activated charcoal! She grabbed a hot chocolate packet off my counter in the second I turned to hang up my coat one day!
The jumping up on counters ...people is still happening along with mouthing,, especially on me but she is getting better. She has so many admirers! She is a celebrity among photographer friends and has so many toys from them! They also love taking photos of her! She has her own paparazzi!
These are a few photos, I'm also planning a photo shoot.... for her with my good friend for either this weekend or during next week. I'll send more when I get them.
I would love to bring her up for a visit if you want to see her, and to return your crate.
Talk soon, Linda
Hi Cathy,
I thought I would let you know how Ruby (Pink ribbon) is doing. She is extremely smart and has been walking at Horn pond with me every day..p.s., I carry her alot! I'm working on crate training and she has been very vocal about letting me know she doesn't like it, but the past two nights it seems she is getting used to not being right up against my feet. As long as she can see me she settles down. I'm sure we will see if this continues. She sits for her food and water and is doing amazingly well at knocking over the Kong to find her treats! She is still having accidents in my apartment but does do well going outside as well. As you know, puppies need to go out many times so we are still working on that. She rides the elevator like a champ and knows the way off of it to our apartment. She even sits at the door most of the time when we get to it. She has walked on so many different types of things. Grass, paths of gravel, wooden bridges, cement leaves...etc. She amazed me the other day while walking a path deep at Horn pond. There is a dead tree across one path. I showed it to her and guided her the first two times over it. She was cautious but went over. The third time she jumped over it like it was nothing!!
She is doing the chewing things that all puppies do, and I'm redirecting her alot to try and stop it. She really is quite the character. She barks at her food/water dish when they are empty. She being likes to carry them around! One question I have is.. how do I stop her from talking back to me? She doesn't do it all the time but she does like to talk back when I correct her behavior.
She is the star among all my photographer friends and has many Aunts and uncles! They absolutely love her!
So, all in all she is adjusting pretty well with me. I know its only been a week but I just love this little girl!
I'm enclosing her first photos at the pond from last week and one from yesterday.
Hope you are well.
Linda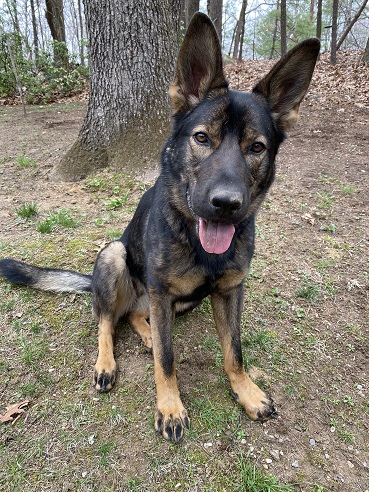 Red ribbon sable "Juno"
Hi Cathy,
As requested, here is a picture of a Juno, Zahra and Tiberius's red pup. 20 months old.
We get compliments on her all the time! People say how fast she is, how beautiful she is, and increasingly, how well behaved she is. That last one is my favorite!
Tara
Hi Cathy,
It's great to hear from you! I have actually been meaning to write with an update. Juno is SUCH a wonderful dog!! Her temperament is absolutely lovely. She is medium energy, often downright mellow. (This may be because we exercise her a fair amount, but even without that she would not be a crazy wound-up puppy.) We are biased, but we think she is beautiful. I get comments on her everywhere I go. One woman even said she is "striking"! Police officers love her. : )
I'm sending along three pictures - I tried to get angles that would capture her beautiful coloring. She has lovely caramel color behind her ears and toward the lower parts of her legs. She still has her raccoon eyes, though that is a little less pronounced now. Her health is perfect and she's growing like a weed - just over 40lb about now. Everyone comments on her "massive" paws. She also has a super long tail!
We are about half-way through level 2 puppy training. So far, she has mastered sit, down, up, stand, touch, wait and "blastoff" (a high touch). We're working on leave it, place (to go mat and stay), swing (come and sit next to me facing in the same direction as me) and longer stays. She is so smart and just a dream to train. She is great at keeping eye contact with me. We are doing a LOT of work with her, but it is already paying off. We plan to take her through all of the training available at our local place (Proper Paws in Concord MA, which we love) and we'll see what the options are after that. At the same time as her classes, we have been bringing her to every puppy play group we can find, and we're taking her to as many different places as we can. She has already been to a couple of 5K races, a holiday parade, into Cambridge, etc. We plan to take her on the commuter rail and the subway over the winter break. We're always trying to think of new situations we can expose her to.
So while she has her typical puppy antics and isn't an angel (the Christmas tree was a challenge and she has discovered counter surfing - we're working on both - bits of cooked beef liver are a great motivator), on the whole we couldn't be happier.
I'll try to remember to send another update in a couple of months, but let me know if I can give any more helpful feedback. So far, I will say that Zara + Tiberius is a wonderful match!!
Cheers,
Tara
Hi Cathy,
Just a quick note to let you know that things are going great with little Juno! She is such a great puppy with a wonderful temperament. She is adjusting to her new home and settling in well. Last night she went easy on us and slept ALL NIGHT LONG in her crate - ten hours, if you can believe it! (The two previous nights were really challenging, so we all deserved this.) I think we really tired her out. We've been taking her everywhere and teaching her all of the household rules. You were right, she is SMART! But I bet that most of your dogs are.
I'm so happy that Melanie put us in touch and that Juno has joined our family. I'll send updates from time to time, but just know how grateful and pleased we are with her first few days with us.
Cheers,
Tara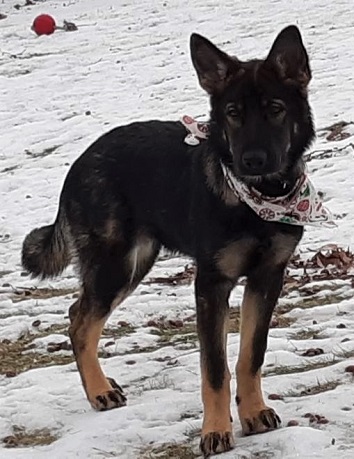 Purple ribbon sable "Violette"