Males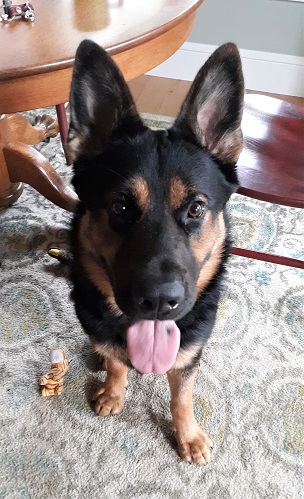 Blue ribbon Bi-color "Balto"
Hi Cathy,
Just want to wish you a Merry Christmas and send you some updated pictures of Balto. He is getting big!!! I can no longer pick him up. He's definitely looking like a big boy. He listens very well and is extremely snuggly. Everyone that meets him loves him immediately. Take care and happy new year as well.

Kindly,
Meghan and Brian
Hi Cathy,
I want to give you an update on Balto. He's doing amazing. Brian and I adore his personality. He is a quick learner and is house broken now. We are starting to teach him basic commands and we are shocked at how fast he picks up on them. He loves to play with his toys and also loves water. He is getting plenty of socialization with our friends shepherd whom treats Balto like his baby, which we were amazed because it's an adult male. We also have a bunch of dogs between my parents side and Brian's parents. We are so glad we purchased him from you. He has brought nothing but joy into our lives. I attached a bunch of pictures so you can see his growth. He is now 21.4 lbs and a hungry boy at that. Take care and we will keep in touch.
Meghan and Brian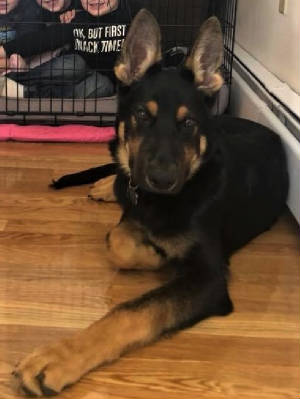 Green ribbon black & tan "Akela"
Hi Cathy,
Just figured I'd give you an updated pic of Akela.
Here he is at 6 months. His last appointment 2 weeks ago he was close to 60lbs.
He's so much fun to work with and also a wonderful family dog as well. He's always up for any challenge with training and any game the kids want to play. Right now I've taught him to go wake -up the kids in the morning (they love it).
Like his Mama he loves to play fetch (that's his favorite).
We would be lost without him, he's the best!!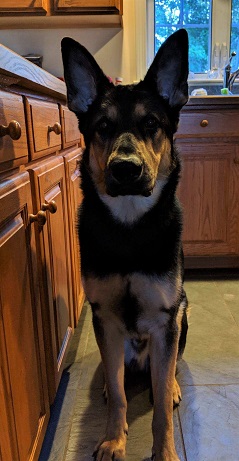 Orange ribbon black & tan "Baron"
Just thought I would send you a picture of Baron. We absolutely love him. He is great. Sleeps 6-7 hours at night in his crate, asks to go outside to go potty and is so funny. You were right he came out of the shyness. He can be a little stubborn like you said. We've gotten lots of compliments on him.
We went and met with Chad to start some training in a couple weeks. He goes next week for his vet appointment. He's gotten so big in the last three weeks. I think he weighs almost 20 pounds.
Thank you again.
Karen