Sable Females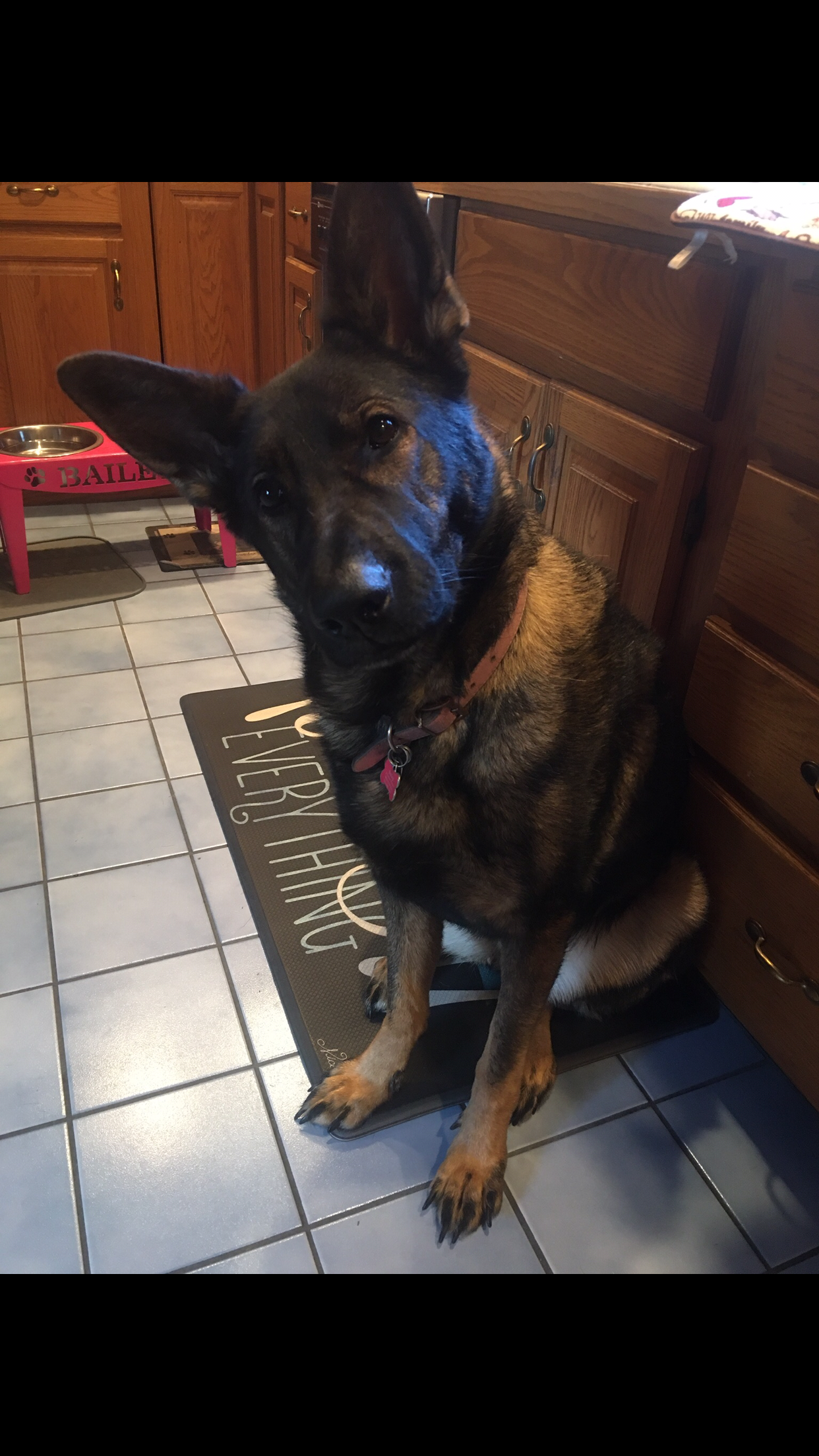 Pink ribbon "Bailey"
Just thought I'd send you a few pics of Bailey :-) have a good day today
Danielle
Hi Cathy,
We just wanted to let you know that Bailey is doing awesome. She is now 6 months old and 60 pounds. I sent you a picture of her a sort of before and after. In one she is almost 2 months old laying at the foot of the kitchen table. In the other she is 6 months old still trying to squeeze in between the same two legs of our kitchen table. LoL
She has such a funny temperament and constantly doing something funny. She is really awesome. Can't remember what it was like before we had her.
We dressed her in a costume at Halloween. She asked to be a lobster so that's the costume we got her lol. We don't think she was too crazy about it once she got it on. She introduced herself to our Christmas tree not realizing our older cat Reese likes to lay underneath it. Boy was she shocked ...she thought the tree was hissing at her...until she saw a white pudgy thing with legs come running out. But things are going great. Bailey says Hi :-)
I will try to send more pictures after Christmas time. Hope you all have a Wonderful Holiday Season. You've made this one an extra special one for us and we thank you for that.
Take care
John & Danielle
SHE IS SOOOOOOO AWESOME!!!!!!!!!! She is 13 weeks now and 23 lbs. Doing fantastic! She says"hi and give mom and dad kisses for me." (Heike & Ruhler). She's patiently waiting for her new brother lol We can't go in the freezer without giving her an ice cube she's so smart! She sits by the side door and barks letting us know she has to go out. She can sit, give paw, speak and up. She loves waking Johnny up in the morning with a thousand kisses. She loves going out for rides in the truck with us and running around the yard. Oh and I forgot to mention she cannot come in the house without finding a treasured stick from outside lol she is just soooo lovable. She gives LOTS of hugs & kisses in the am especially after she goes out in the morning and after she eats :-) She is just so perfect!!!!! The cats are still on the fence. Thank You for doing what you do .....she really is amazing!
Danielle,John & Johnny
Hi Cathy,
We just wanted to send you some pictures of Bailey. She's getting so big!! It's been 2 weeks and her legs have gotten so long! She adjusted awesome. We are having so much fun with her. She already sits and working on paw and stay now. She actually started sleeping thru the night this past week and she ALWAYS wants more food every time I feed her. I've been feeding her 3/4-1 cup 3 times a day and she devours it so quickly then whines when it's all gone. She tells us now when she has to go out and crate is working great!!
We just wanted to let you know how she is doing and send you some cute pictures. I think I've taken 200 by now :-)
Take care,
John, Danielle & Johnny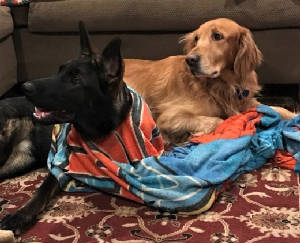 Purple ribbon "Luna"
We LOVE Luna, she is a great puppy, having fun with her!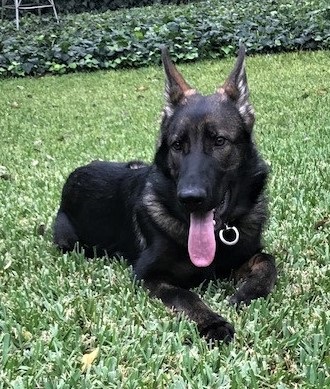 Light Green ribbon "Addie"
She's doing amazing!!!!! Doing explosives detection and bite work. We are in Texas training for the next 3 months, she's been through an 8 week obedience course already and doing extremely well. I've started a Non profit organization called Green Mountain K-9 that trains shelter dogs in obedience and gives them to Combat veterans. And Addie is the reason for starting this! Chris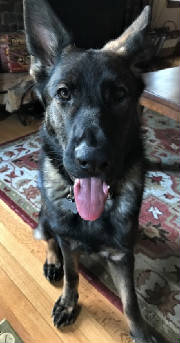 Magenta ribbon "Gracie"
Hi Cathy,
Gracie is now about 60 pounds. She loves to chase the ball like her mom and loves tug of war. She is smart but doesn't really listen to me. I have not been able to maintain training since my injury. So instead of walking her, we take her to day care twice a week to run around and also play in the back yard. She loves to wrestle with me and chase the cat. She is kind of a baby. She likes to play with smaller dogs and is scared of bigger dogs and loud barks and noises. She hardly ever barks other than when she is impatient when I am not sharing my food with her. She is great when we leave the house and sleeps downstairs by herself when we go to bed. Attached are a couple of pictures. I will send more and maybe video later. She really stands out among the other dogs. Everyone comments on how beautiful she is.
Jeff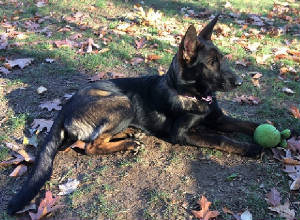 Orange ribbon "Una"
Hi Cathy! LOL...This is my third email in a row to you updating pictures! I am extremely happy with Una! This girl is such a joy to have added to the fur family. I have to say she is a dream to train! All of the pups that come out of your breeding program are smart, loyal and loving! This is my third pup from you and I am beyond thankful for you! Una is smart, confident and loving! I take all the pups out and about. They all get socialized in many places! I am lucky to be able to bring them to: A boat place we have our boat serviced at, the grocery store, Lowes, Home Depot, Tractor supply, Downtown Saratoga, many pet stores, walking paths, neighborhood walks and boating! Una is a moving and shaker! This girl is confident like no other, loving and calm. Una turns head where ever she goes! All of the people that meet her comment on her beauty, grace and calm personality! This girl is so chill whenever we go to the vets she falls asleep! HAHAHA! I sent a few pictures for you to choose from to post!
Melissa
Hi Cathy! Una and is such a great addition to our family. I get such compliments on her nature and behavior when we are out! Her last vet check the vets office was buzzing with many dogs. Just about everyone commented on Una's calm nature. One lady said she was the youngest dog there and she was the best mannered! Una's check went well, weighed in at 38 pds the vet was happy with her overall! Her training is going well she is one smart cookie. Only thing we need to work on is jumping out of excitement. I have to get the nieces and nephew kids on board with not petting her when she is jumping! Her sister pack is just loving her and she loves them. I check in all the time to see whats going on with your pack and love to check on the updated photos of the girls litter mates! Thanks for being who you are and doing what you do!! Hope all is well with you and your family!
Thanks,
The Frohnhoefers
Hi Cathy!
All is going spectacular with Una! Greta and Kirsa just love their new addition. Una is a dream to train she knows her name of course, sit, down, look, here, come,out and in has been a bit of a challenge lately. Una is a bit more free spirited with distraction...leash on redirect, girls running in and she comes in....haha! Una is one smart cookie and it does help that she has her auntie Greta and sister Kirsa to follow. Found that chicken is the best training treat for her. We have had her out on the boat a few times she loved it! Vet will be checking her on Monday and I will update you next week. Hope all is well with you.
Thanks,
Melissa