Males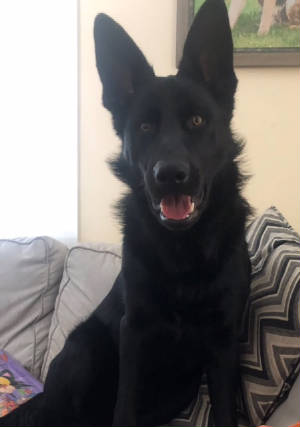 Blue ribbon black male "Kaiser"
Hello!
Kaiser is doing very well! He is almost 80lbs now! Very handsome! He loves playing with the other dogs and hanging out with the goats. We are still training him on the chickens! He likes to chase them, so we are working on it. He loves the snow and likes to bury his nose in it! He is housebroken and crate trained. Other training is going well. Still needs some work with the leash but "stay" and "come" are good. He likes new people and is social when we have company. He has what we like to call a "rapid fire" bark (lots of barking very quickly) so his protective instincts are kicking in. He is learning well from the other dogs but still developing his own personality!!
Thanks for checking in! I'll try to attach some photos to this email. Let me know if they don't come through. I have a couple videos too that I will try to send in a separate email.
Kim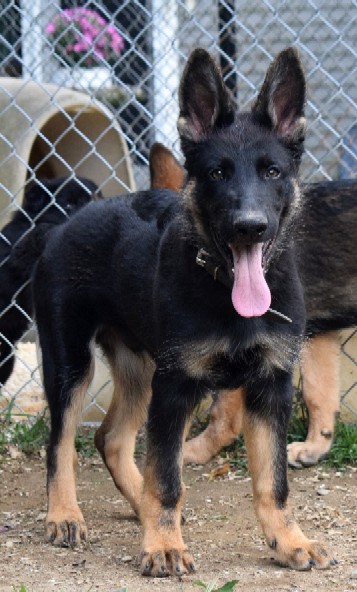 Navy ribbon black & tan male "Easton"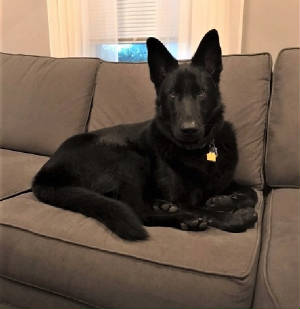 Green ribbon black male "Georgie"
Hi Cathy,
Hope all is well! I saw that you bred Josie and Norm again and the pups look so beautiful! I was wondering if you'd breed them again in the next year or two? I'd really love to get on their list again. We got Georgie (green collar) from the Josie and Norm litter that was born May 18, 2017 and he is just the most perfect, sweet, handsome boy. I've included some pictures. Kate
Hi Cathy!
I wanted to send you over some pics of Georgie. He is such a sweet boy. He's so calm and intelligent and has an outstanding temperament -- every person who meets him comments on it. He knew how to sit, give paw, come, and lay down literally in less than 1 week of owning him. He's loves water, being outside, air conditioning, and my parents 10 month old Westie, Gus. I'm so excited to see him grow - we love him more each day! I'm already talking about getting another one! I will keep you posted on his progress and thank you again.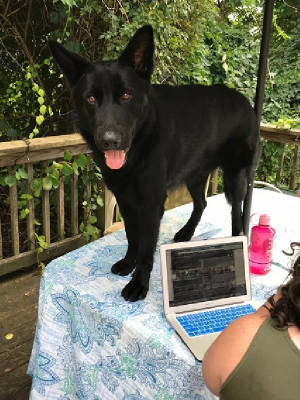 Red ribbon black male "Mako"
Hi Cathy,
I hope your summer has been a nice one. Here is Mako- so gorgeous but he has a bad habit of jumping on the deck table. We are working on it!
Aside from that, he's just awesome! He's going over 90 lbs but he looks smallish here. :-)
His disposition is just perfect!
Happy fall!
Maggie
Hi Cathy,
Mako continues to be a wonderful addition to our family. His temperament is so much like Sasha's! He's sweet and sassy. He's doing well on his training and I'm thinking about doing rally training with him when he gets older. The current class instructor we have is awesome and she teaches beginner rally. We know he will need to be kept busy.
How is his sister doing?
Have a great weekend-
Maggie
Mako still loves his squeaky bone.
He's been downtown three times and really has been the center of attention. After his shots on Saturday he can play with the other dogs at the beach.
We are loving his personality!
Hope all is great with you-
Maggie