Females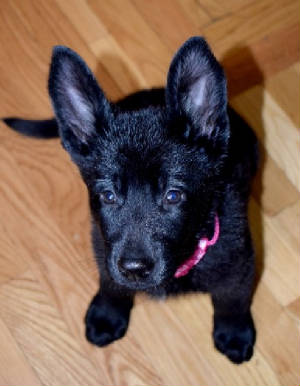 Pink ribbon black "Nora"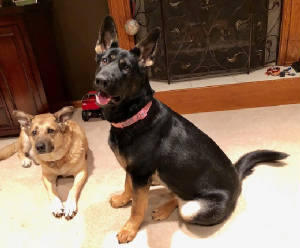 Purple ribbon black & tan "Lila"
Hi Cathy, I am constantly stopped at the Ski Area as people comment on how beautiful she is and how well behaved or how they want a dog like her.
Lila's 1st snow on West Mountain!
Great Dog Cathy, We love her, drives Munch nuts though :)
Thanks,
Spencer
Hi Cathy,
Lila is doing great and she and the kids are loving it. Here are a few pictures.
Thank you,
Spencer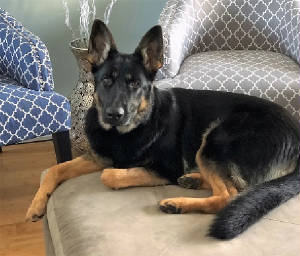 Red ribbon black & tan "Athena"
Hi Cathy, iv been meaning to send you an updated photo and here is our beautiful baby. She is so amazing...lots of Drive and very loyal. Love her! Take care!
Our baby girl is 6 months today ! She is soooo beautiful ;) we are very happy! Hope you are well ! Jeff
Hi Cathy,

We settled on the name "Athena". Our rescue and her are amazing together...treats her like a protective big brother!!
Hi Cathy, she is soooo playful, loving and super smart! She is best friends already with our rescue dog. Thank you again!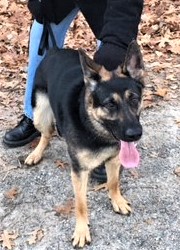 Yellow ribbon black & tan "Cami"

Hi Cathy, I can't believe she had her bday already either.
Here is our Cami, She is so smart and well trained and my dads Partner in crime, they go everywhere together. She goes for a run everyday and loves the snow ! Renette
Good morning Cathy,
I thought I would give u an update on Cami she is doing awesome such a love bug. She is beautiful and so good natured. My dad can't stop talked about what a great job you do. She is always getting complimented on her beautiful features. Thanks and happy holidays
Renette
She is doing great a bit nippy bit we are working on that almost potty trained.. She she asked to go out.. Sleeps in crate like a charm ..although I thought we wouldn't make if through the 1st. 2 weeks ..she knows a few commands sit paw down almost stay she gets pretty excited when she sees the treat so stay is pretty hard she drops when I say drop (some time) ..she follows my dad around like his shadow.. She was approximately 13 1lbs last week I will have aore accurate weight at her 1st appt Thursday she is a beautiful puppy thanks so much! Renette
I thought I would give u a little update on Cami. She didn't do well in the first heat wave so we bought her a pool and my dad took her to a local pond (browns pond in Peabody ) she had a blast cooling down. She is over 20lbs now.. It was 20 last vet appointment and I do believe she sprouted up since then . we have another on Wednesday for her Rabies .. She will be going to puppy school after that.. I am going with trina and her pups up near u . thank u so much for a wonderful puppy.