Males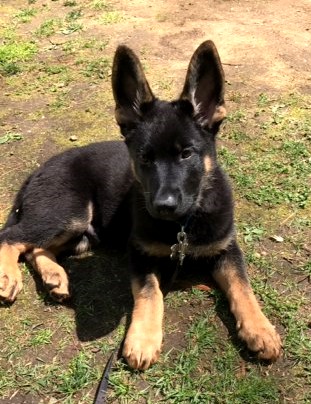 Blue ribbon black & tan "Bear" Sold
Hi Cathy, Bear is doing great! He is participating in obedient school with k-9 east. Sleeping in his crate at night. Very active! Current weight at almost 4 months=35lbs. Seeing vet tomorrow for 2nd rabies shot. Very loving but nippy at times. However, he is a quick learner. We will send more pics soon. (John, Kristine, & Sophie)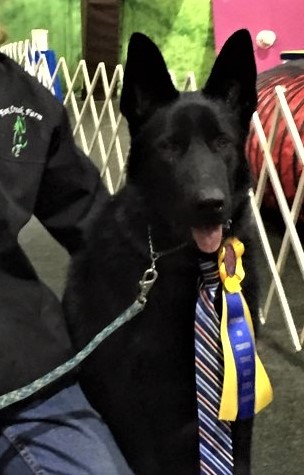 Green ribbon black "Smokey" Sold
Hi Cathy , I hope all is well with you and your dogs. Smokey is doing great. He is growing up and getting more self control and focus every day. I am pleased to tell you that he passed his Canine Good Citizen test last week. I am looking into a Community Canine Good Citizen class starting at the end of January. We did take a basic agility class, but the only obstacle he likes is the A-frame, the rest he could do without. I still plan on doing some nose work next year which I think he'll like much better. Happy New Year,
Carrie and Smokey
Smokey was a star for the vet. He was too busy chewing everything to care about what was going on. He's definitely got personality and will keep us all on our toes.
Carrie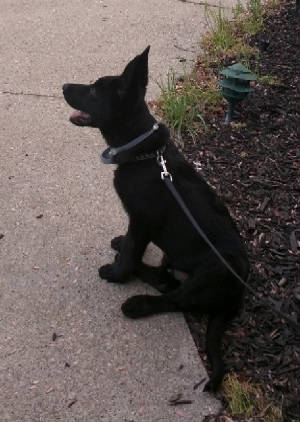 Grey ribbon black "Simba" Sold
Hey Cathy ,
I hope all is going well with you,
he is doing great we love him and very happy with him ,
He is close to 30 pounds and grwoing so fast .
Thanks,
Thank you Cathy for adding joy to our Life.. he is a great addition to our family :)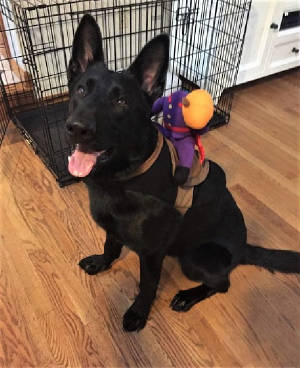 Navy ribbon black "Otto" Sold
Hi Cathy!
Otto is doing great, he's getting so big! Probably 40ish lbs now! He just went through his first obedience course and is doing great with recall, "place", sit & down! We are now working on waiting politely at the door when going in/out. You've breed an amazing dog! Our trainer even said he has great drive, very smart and has great body structure. He loves everyone and is just a super happy, goofy pup! Thank you again!
- Janna
Hi Cathy!
Otto is doing great here! He is sleeping through the night and Timber and him are best buds! They play tug-a-war all night long, well Otto holds on and lays on the floor while Timber drags him around haha. He goes to work with Graham everyday and he sets a pen up for him and he just loves being outside all the time! Thank you so much for a wonderful dog! Here are a couple pictures of Timber & his first couple days together.
- Janna & Graham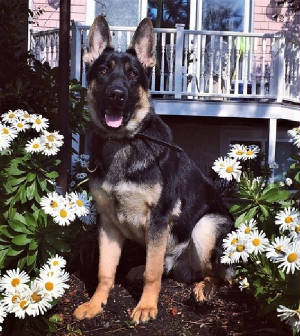 Orange ribbon black & tan "Opie" Sold
Opie is doing great...so smart and a lot of fun!
Hi Cathy,
He's gaining weight - now weighs 14.4 pounds. Regular food hound - up to 1 cup per meal and always begging for more. Trying to keep him within normal amounts and not be fat. Tried him on a few kernels of Taste of the Wild mixed in with his Eagle Puppy Chow, but he always had soft/loose stools from it. So after 4 days gave up and our son donated it to a shelter for us. Just going to stick to Eagle Brand from now on. He woke up once to pee the first night, has slept through the night since then. Strong little tyke - capable of dragging us on the leash. Went down our porch stairs on the first day, went up them as well on the second day - 7 stairs from top to bottom. Having a terrible time teething, chew on everything including furniture even though we have enough toys to stock a pet store. Discovered he absolutely goes crazy over cold carrots, seems to help the biting/chewing. Crating is an on-going process - still howls like a banshee for the first few minutes and then finally settles down. His favorite place seems to be laying at your feet whenever you're sitting somewhere - eating, computer, watching TV. He has become the "family dog" in that both our grown daughter and her kids and our grown son come over daily to visit and play with him. Our son even wants to be part of his training and found a training site called Trouwe Hond K-9 in Hanover, a town not far from us. The owner apparently has a lot of good reviews so will have to check it out as it is quite apparent that this little guy - for as sweet and precious as he is - has quite definitely got a mind of his own and will need consistent training. Working on the basic come, sit, down at this point and he seems to enjoy it as he loves doing anything for food.
If you have any thoughts as to something we should be doing differently, we'd love to hear them.