Males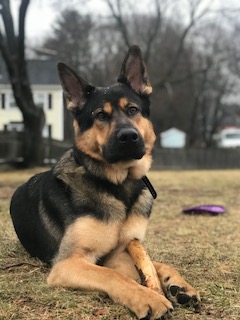 Blue ribbon sable male "Maximus"
Cathy,
I'd like to start with a thank you. Its been almost a year since we have had Max, and we can't imagine life without him. He has brought our family closer together; he is the biggest sweetheart.
At first thought it was going to be tough keeping up with a German Shepherd, but now I cant wait to come home and take him outside to play Frisbee, or fetch, or just take him for a walk. I'm pretty sure Max will be responsible for increasing my lifespan.
Our love for him is immeasurable. He brings smiles to strangers faces. He is admired and adored by everyone who meets him.
He is extremely intelligent. He's so smart that I think our trainer is jealous!
Sincerely,
Sheryl, Tony, Sofia, and Max
Hi Cathy,
Max is really loving his new food (Inukshuk)!
Also, just wanted to thank you, and let you know that you breed the most beautiful German Shepherd dogs anywhere!!!
Thanks,
Tony

We met Joe...he's great! Max can sit lay down stay give kisses and of course be super cute!!! We adore him!!!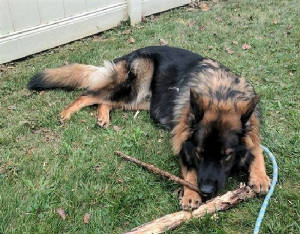 Gold ribbon sable male "Fin"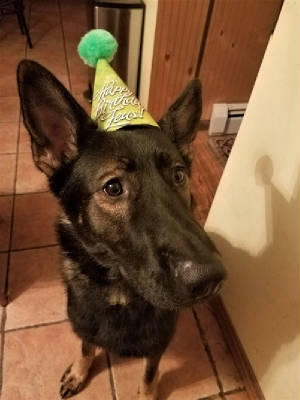 Green ribbon sable male "Zeus"
Zeus is amazing, i cant believe my baby is 1yrs old today! thank you very much for Zeus!
hi cathy, i want to share pictures of my baby zeus, he is absolutely the best! he is friendly loveable and loyal, his favorite thing is sleeping with mommy and tennis balls. i cant believe in a few days he will be 9 months!
hi cathy i wanted to thank you for zeus he is my love he is so lovable and a wonderful addition to our family he brings joy everyday he just loves to go for walks everyday everywhere we go people tell me how perfect he is so i tell everyone about how wonderful you are so a big thank you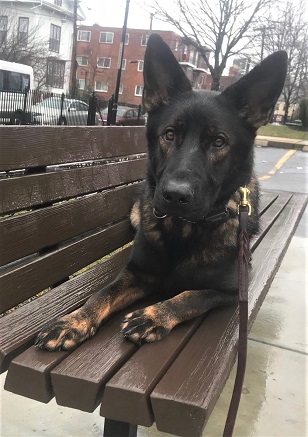 Grey ribbon sable male "Bucho"
Hi Cathy - I just wanted to check in, say hi, and give you an update on our boy Bucho! He is growing into an amazing pooch and is such a good boy! He really is a member of our family; he and our daughter are best buds. We get so many compliments about him when we're out on walks. We'll definitely have to bring him up at some point for a visit. I've attached a couple of recent pics.
Hope all is well!
All the best,
--Christy
Hi Cathy - Great news! Thanks for letting me know...I'll keep an eye out for the papers in the mail. Bucho is doing great! He's about 65 pounds right now and still growing. He has the best demeanor. He's so incredible with kids of all ages, and is just a love! We'll have to bring him up for a visit at some point. In the meantime, I've attached a couple of recent pics of him! Hope all is well!--Christy
Hi Cathy - I just wanted to check in and give you an update on our boy Bucho....he is settling in really well! He's such a good pup! We're training with him now and he is doing really well. Just a smart dog, eager to please. Attached are a couple recent pictures of him. He's so dang cute! Thanks, Christy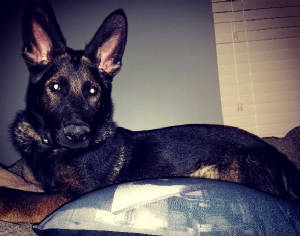 Navy ribbon sable male "Kilo"
Hello Cathy-
Elliot and Kilo are bonding well!
Everything is going well. He's a smart boy and catching onto housebreaking fast.
Thanks!
Kelli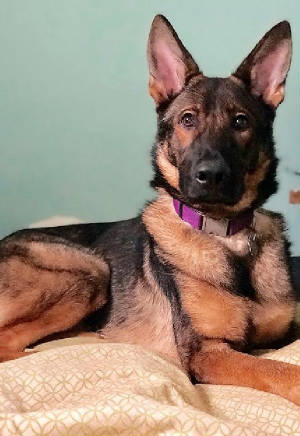 Orange ribbon sable male "Hermes"