Males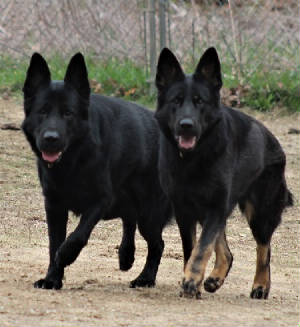 Blue ribbon solid black "Deke" (left, with sister Zahra)
Cathy, He is doing great. Growing fast! His paws seem to get bigger everyday!!!! Suzanne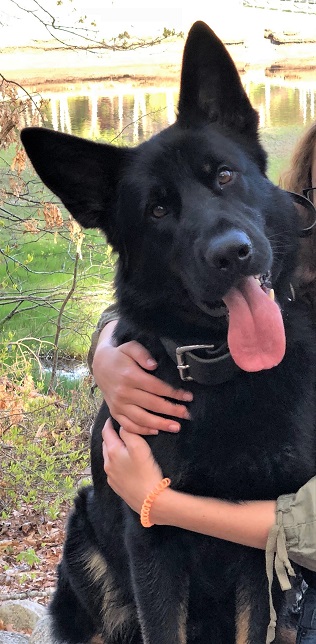 Green ribbon bi-color "Pacha"
Here's a few pics of Pacha just shy of a year. Chase is 3 and a half right about now. Two total different personalities but both amazing dogs. Love them to
Pieces!

Teaching Pacha to swim when we went away. Took him a day or so but now he's a champ!
So far so good! He's already crate trained... working on the potty training. Chase is warming up to him more and more. Kids were super surprised! Alyssa cried. It was so sweet! I'll keep you updated! Tracey
Hi Cathy,
He's doing well on a lot of things! Potty training... not so much. He can hold it up to 6 hours in his crate but in the house he isn't making the connection to hold it. He just goes wherever and whenever.. even if he just went out 10 min prior and peed. I'm sure with time he'll get it but for now I'm buying stock in natures miracle! He's super smart and gets a lot of things very quick but not this for some reason.
He's staying nice and dark so far. Brown isn't spreading much, which I like.
He's crazy food driven. By this time chase laid up on his food a bit but this guys like a feeding frenzy shark. I swear his eyes glaze over and he goes into some type of trance! Bowels are good.. no sensitive stomach issues which is great!
Thanks for the advice on the ear.. I wasn't sure due it being just the tip... I was hoping it wasn't damaged from playing with all the dogs. I'll keep you posted on that.
He's super socialized due to all the dogs I have boarding. No prob there.
All typical puppy stuff! Just a bit harder to potty train than any other dog I've had thus far.
I'll send you some pics in a few months when he hits 6 months so you can see his physical progress. He's a joy overall. Hope his sister is doing well!
Tracy-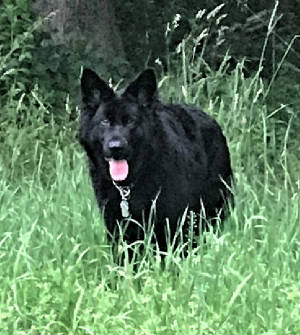 Orange ribbon solid black "Zeke"
Hi Cathy.
Zeke is a really happy pup. He's funny. He runs and jumps up on you when you're sitting almost like running into your arms. He very lovable too. He barks like a mad man when you're making his dinner. Cute. Not house trained yet. Almost though. Pauline