Females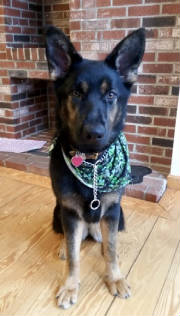 Pink ribbon black & tan "Harley"
Hi Cathy,
Just wanted to let you know Harley is doing great. She is a fast learner and has a great personality. She gets along great with our lab the two of them love to play together. Her favorite game is knocking over her water bowl and carrying it around the house. Which makes a a mess but she loves to carry stuff.
Here is a recent picture of her. I just had her weighed and she is 19.2 lbs. Thank you for an amazing puppy. We all love her so much.
Sincerely,
Kirby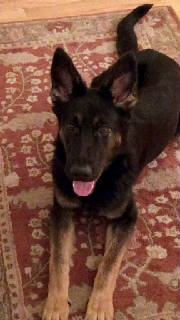 Red ribbon black & tan "Zoe"
Hi Cathy,
Hope all is well. Mason is adorable! Zoe is thriving, she is very sweet to us, terrorizing Lucy, though. Lucy can hold her own, they are both doing great. Cheryl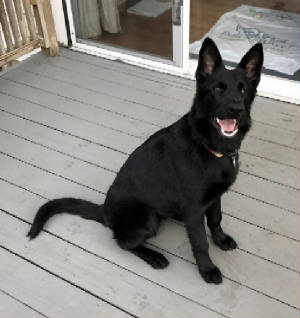 Purple ribbon solid black "Madeline"
She's gorgeous and extremely smart and is so affectionate and is doing great and thanks again! Steve
Hi Cathy
Madeline is doing great she's very smart she doesn't have a mean bone in her body she's fantastic she does very well with little children we just weighed her she 60 pounds in just under 10 months and we love her
Thanks
Steve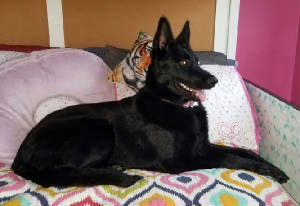 Orange ribbon solid black "Nikita"
Hi Cathy,
Nikita will be 9 months old tomorrow, so I thought I would drop a note to let you know that she is an absolute doll just like her Mom, Georgia.
I just can't believe that she has been with us 7 months already. She is so smart & vivacious and loves everyone and everything (except vacuums, I am working on that one>>>any advice on that would be much appreciated ;)
We are taking her on her first family overnight hotel trip to North Conway in a couple of weeks and staying at the Marriott, since they allow "big" pets. I can't wait to take her.
She loves walking, car rides, hiking and I think she is going to love swimming. I let her put her feet in the ocean yesterday.
I attached is couple pictures. She is a beauty and we are told that by passersby all the time.
Hope all is well with you and family.
Take Care.
Deanna, Jason, Marissa & Nikita :)
Hi Cathy,

I wanted to send you a note to say and "hi" and give you an update on Nikita (orange). She is now just shy of 13 weeks old and could not be happier. She is such a doll and is so much fun, not to mention super smart. We are close to being house trained ("yeah"). She loves car rides. She goes with us everywhere and she is meeting lots of people and dogs. I have attached pictures of her going to field hockey, tennis @ Newburyport Racquet Club, out to dinner with us, and our outing to the apple orchard. Everywhere we go, everyone gushes over her and tells us how beautiful she is. She has a fan club both at field hockey and tennis. She loves it. We start puppy kindergarten on Tuesday at Fit n Trim. She is sure to be a star pupil. She is amazing and can't thank you enough for our new family member/best friend. We are so happy and I will sure to keep in touch, so you can see her as she grows into a beautiful adult.
Again, thank you so much.
Take Care,
Deanna, Marissa and Jason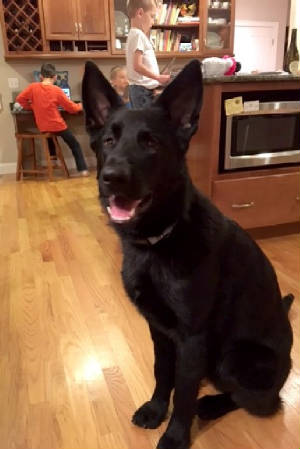 Yellow ribbon solid black "Lilo"
Hi Cathy,
Lilo is doing amazing. She has grown into a beautiful German Shepherd, we have received many compliments about not only her appearance but her behavior. She is a wonderful dog and has become an amazing part of our family. She's very playful, is not really a snuggler unless she's on top of our bed getting her belly rubbed in the morning, LOL. She loves to play catch and she also loves to bring us surprises into the house like rocks and sticks! She enjoys her nightly treats of frozen apples and sweet potatoes, she's a very funny dog! Here are some pictures of her and as you can see she is absolutely stunning! Rebecca H.