Females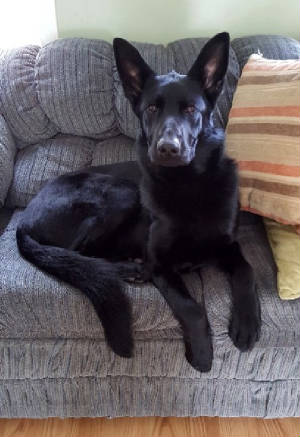 Pink ribbon black "Rousey"
Hi Cathy,

How's it going? Rousey is doing awesome, she is right around 60 pounds. She listens and can sit, stay, lay down, and give her paw. We will be starting obedience training soon. She loves all dogs,cats, and people. She loves being outside and chasing her ball and chewing on sticks. She is just a joy to have her in our family. We take her to as many places as we can to keep her socialized, she also enjoys car rides.....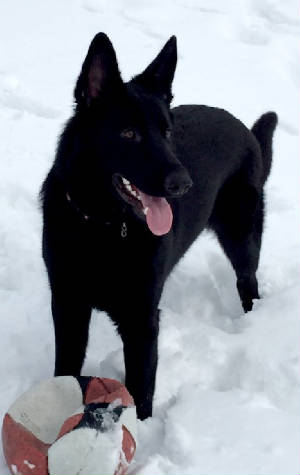 Purple ribbon black "Greta"
Greta is a big girl, weighs as much at 6 mos. as she should at 9 mos., 80 lbs is where the vet said she would be...thanks Cathy...she's a keeper and fits in very well with us and the cat Mabel, who she's buddies with.
Jack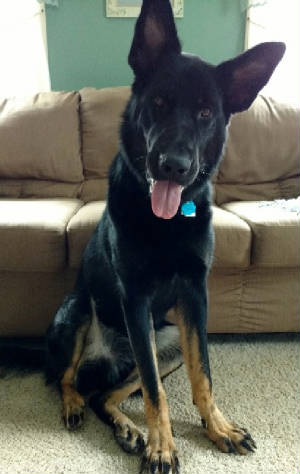 Red ribbon black & tan "Reese"
Hi Cathy,
This update on Reese is long over due, but she is still doing great and keeping us busy every day! As you can see, she's a big girl - at last check she weighed in at 85 pounds! Reese is very energetic and goofy, and she enjoys playing with anyone who's willing. She definitely has a strong personality that commands attention at times, but she's also very loving and friendly, as well as content just being with her family. We continue to receive many compliments on what a beautiful dog she is, and we're​ always sure to share Reese's pedigree. We still enjoy looking at all the photos of your new pups, as well as Reese's siblings. They are all amazing!
Have a wonderful summer,
The Valera Family
Hi Cathy! We thought you'd like to see a picture of Reese at 5 months. She's still growing like crazy - almost 50 lbs now - and looking more and more like her daddy, Zee! She's such a beautiful dog with a very sweet personality. Reese absolutely loves to be around people and she's also great with other dogs. She's curious about everything, too, and definitely keeps us on our toes... sometimes we think she's maybe a little too smart for her own good! Reese finished puppy kindergarten and we'll be starting some more training classes very soon. We are just so happy that she's part of our family and we continue to enjoy every day with her!
Hope all is well,
The Valera Family
Hi Cathy! We can't believe it's already been a month since we picked up Reese. As you can see, she has grown so much! She was already 22lbs at her vet appointment two weeks ago and she is definitely well beyond that now! Reese also started puppy training class last week and she's a star student! She just loves people of all ages and is great with other dogs, too. She's definitely keeping us busy but all in a good way! Hope all is well and that you are enjoying the start of summer. Take care, The Valera Family