Females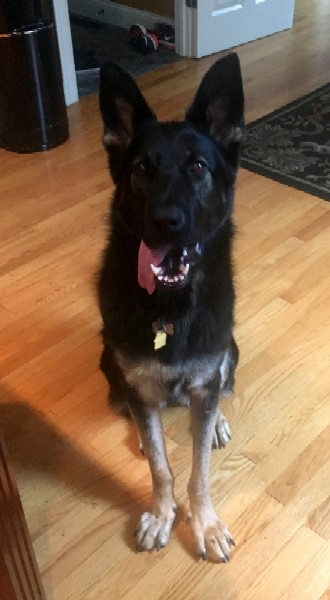 Pink ribbon black & tan female "Radleigh"
Hi Cathy
Thought you'd like a few pics of Radleigh. She's doing great – a little crazy at times but she's very sweet and loving.Almost housebroken now – a few accidents here and there but nothing like the early days.
She sees Arden regularly and has friends in the neighborhood now.
All the best, Eric
Hope all is well.
Thought you'd like a few pictures of the pups.
Things are going fine with Radleigh – if we could just get her to go to the bathroom where she's supposed to!
She was over 15 ½ Ilbs when we took her to the vet on Wednesday for her lime shots so we're guessing she's already over 17 now.
She has a great personality – you can tell the difference in characters between her and Arden (Arden was here yesterday and they played for hours after which Radleigh slept until close to 7am this morning.
She doesn't miss a thing – very, very inquisitive. We're enjoying every minute – thanks again.
All the best
Purple ribbon black & tan female "Parquet"
Hi Cathy,
I apologize for so much time in between checkins! Things have been a little crazy! Parquet is the BEST. Training her was so fun for me, that I decided to become a certified trainer myself. She is so well behaved and has wonderful manners! She had brought our family so much joy and I love how much she loves us all too; she barely leaves my side! She has gotten so big too! I promise I will not wait to long in between updates again!!!
Good morning! Just wanted to let you know how our four month old girl is doing.

She's gotten so big; she's the same size as our Husky and I know she has more growing to do!

She's a love bug - she wraps her huge paws around us and hugs us tight!! We absolutely adore her; she is extremely happy and low key!
Hi Cathy!

We saw the vet and little miss is weighing in at just under 16 pounds now, and she is 100% happy, healthy, and thriving! She just took a little vacation with us to Vermont and she loved exploring the snowy forests and cuddling by the fireplace after! She continues to do well with our other dog (they can not be separated for longer than 5 minutes without whimpering) and the cat is learning to tolerate Parquet's desire to play. She doesn't love bath time yet, but she really enjoys being brushed after! She is so good natured, kind and extremely gentle with the children, and very responsive to all of us!
We have the BEST puppy! She is 90% house broken, and already completely crate trained at night. She LOVES our Husky, Bruin; and ADORES the kids. She treats the baby as her litter mate, and they chase each other all over the house! She comes on the drive to school each morning, and waits for the kids by the door when they come home. She filled a piece we didn't know we were missing! The best part is her snuggling. She loves to be held like a baby on my shoulder and she climbs on my lap whenever I sit down. I love having her as my buddy!
Shawna
Hi Cathy!
Just wanted to let you know little miss Parquet is settling right in to our home! Bruin loves his new baby sister, and the kids absolutely adore her! She's going to be such a perfect addition to our family! I promise to send you pictures and keep you up to date on this little snuggly princess!
Shawna & family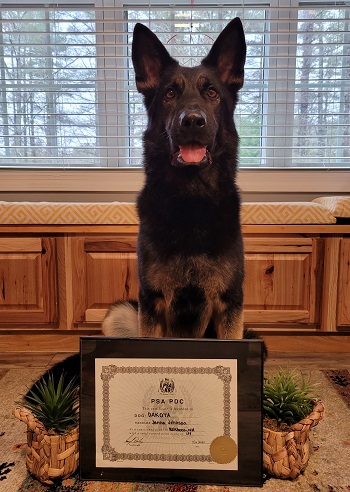 Red ribbon black & tan female "Dakota"
Hi Cathy!
Hope all is well in 2020! Wishing you and the dogs all the best.
.I just wanted to drop in and give you a quick update, since it's going to be Kota's 5th Birthday in a couple weeks.
.2020 has been a wild and crazy year that's for sure, but we did manage to accomplish one major goal!
.As you know, Kota has earned her PDC ( Protection Dog Certificate) in our favorite sport PSA!! I am so proud of her. Not only did we accomplish this, but we also managed to move to a home with alot of property, and alot of quiet.
.Kota is doing very well health wise. She has a good healthy weight, she is very content, and knows she is the favorite out of the pack lol! We also purchased a dog treadmill, which keeps her limber. .
Tho 2020 kept us from doing alot of our favorite spring/ summer activities we still managed to get to the lakes for our swims, and did some light traveling.
.I wish you and your family good health, and still forever grateful for an amazing dog.
.Best Wishes Cathy!
-Jenna Johnson & Dakota-Jane PDC!
Hi Cathy Jenna& Dakota here! Hope all is well.
Figured it was time for an update as it has been a long time.
As of June 2017; Dakota is 76 pounds. She is solid, big boned, relaxed, and most of all in excellent condition. She is definitely a girls best friend. She is well behaved when we go into public, but gets a little excited when we run into other shepherds, but who can blame her ;) hahaha.
She has been on so many adventures with my family and I, like trips to the white mountains, lake Winni, camping and the beach house, and of course our daily outting on our local trails.
We always get compliments on how beautiful Dakota is, and her manners. In which makes me proud.
Dakota has been so much fun to have and also work with. We passed basic, and intermediate OB training. We currently enrolled into PSA training. Which is so much fun. Dakota has had a few lessons so far, and she is doing excellent and improving fast.
I hope all is well Cathy!
Talk to you soon.
Thank you so much for a remarkable dog.
Hope you enjoy the pictures enclosed. :)
-Jenna Johnson and Dakota
Hi Cathy!!!
Hope all is well!!! Dakota is doing fabulous! She's a womping 32 pounds as of last thursday! LOL! Hard to believe she's still a puppy!!! The top picture was taken tonight, so you could see how big she got! We took our first trip to the beach last week, we could not go 2 feet with out people stopping to compliment on her BIG EARS, and BIG PAWS! oh and of course of her gorgeous looks! We also went to the dog park twice this weekend ( her first time, now that she got her rabies shot), and she did marvelous. Always observant at first but doesn't take long for her to get her dog gears going and she's off. Dakota is doing great with her manners, and listening to commands. She's great with "sit", "come" on command, and "Leave it". One other "weird" command I say weird, because I don't think they use it in training, but when were done outside walking around our building, I'll say "Dakota, House", and shell go right to our building door, and wait. We have a sliding glass door with a mini porch, and she's getting better with when she whimpers, well say outside?? and shell run to the door and wait to go out, and shell do her business outside on the porch. She still has accidents ( pee ) in the house, but if I remember from the last shepherd I trained she'd still have accidents here n there, but Dakota has gotten better. She also has an "ear" for Evan. I taught him a simple command for her, so he feels special too. Dakota will see Evan, hell point to her bum and hell say "Sit", and she listens like a good girl. Evan gets a real kick out of it, and loves it. Dakota got a lot better when were eating dinner, she won't jump on our laps, or even beg anymore. Shell just sit there and watch lol. The secret honestly is always having those trainer treats on hand!! Dakota also graduated ( in my books lol ) while were in public not to jump when approached, and to wait till we and the other people meet in a happy middle, and then greet the others with wagging tales. I also noticed when we were at the beach, she "senses" the people who want to pet her, and those who could care less/ don't want to be bothered. It amazed me.
Thanks again Cathy!! Well check in soon! By the way new pups!! ADORABLE!!! Hope you're doing great!!
HAPPY SPRING!!!
-Jenna Darryl Dakota and the Boys
Hi Ms. Cathy!!
Got a 2 week update for you!!Well, it's been a very busy 2 weeks!
Dakota went to her first vet appointment a little over a week ago, and she gained a whomping 4 pounds in a week! Vet had nothing but great things to say about Dakota, on how well behaved she was, and how white her teeth were! She goes back next week for her first round of shots I believe!!Dakota is doing great overall. She finally broke out of her shell, and her personality is nothing but sunshine wherever she goes. We get nothing but compliments on how chill, and relaxed she is, also on her gorgeous looks! Dakota loves the outside, and meeting everyone. Which I do have to brag- she is always calm with a wagging tale and kisses when she greets people and other dogs. She is a great cuddle bug while we are relaxing, and I think sometimes Dakota thinks she's a cat and likes to jump on our low table lay down and relax, (I blame the cats..)..lol Her and our two cats are adjusting... lol, my female cat lets her chase her with out any hissing or bopping on the head from the cat's feet. So thats a plus!Dakota also met Norman the other week!! Oh my gosh... I couldn't get over the fact that she was following him up the snow pile and trying to slide down after he was doing it. They got along great! He got so big since the last time I saw him!!She is so great with our two boys, especially when our two year old is having a tantrum, she tries to console him with kisses, and a hug from one of her huge paws. I wish I had my camera for these moments!We are working on crate training, I think she's adjusting to it. We bought her bunch of chewy sticks, and distractions to where she is calm when we leave her alone at home. Potty training is a mix! We bring her right outside when she wakes up, and right after she eats/drinks. We're putting the food dishes up on counters so she doesn't graze. We also keep the cat food separated in whatever room she is being gated in with us. Dakota has graduated to the word "Outside", and goes to the hallway when she needs to go.
So overall she is too perfect! Here are some pictures of how she's looking! Her ears finally perked up last weekend! Hopefully the pictures uploaded.
Hope all is well Cathy!!
-Jenna, and Darryl
HI Ms. Cathy!!
A little 24 hour later update!Dakota is doing great!! She is very mellow, and adjusting quite well! She greets everyone with a wagging tale, and if she's feeling insecure she'll walk behind us, and observe. I'll admit; she did sleep with us in bed last night! ( I know, I know..Not the right habit I wanted to start but we couldn't resist) She met one of our neighbor dogs today, and got a little shy and hid behind daddy, but did a lot better when she met her "cousins" today at my mother's house.
Marley ( the white dog pictured below) and Dakota hit it right off! Marley can have high energy so they played together perfectly!
Dakota follows Darryl and I around the house, as well as my youngest... who she loves to tackle with kisses and hugs! Thank you SO MUCH Cathy for a wonderful dog, and the perfect addition to our family. We couldn't ask for a better dog. We will keep you updated!!
THANK YOU AGAIN CATHY!!! CANT NOT EXPRESS ENOUGH HOW THANKFUL WE ARE!!!
<3 Jenna, Darryl, The Boys, and Dakota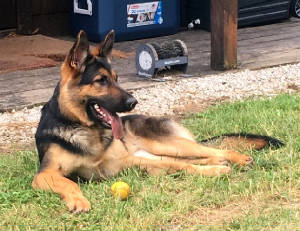 Yellow ribbon black & tan female "Arden"
Hey Cathy!
It's been a while, but I wanted to share some updated photos of Arden. She's doing great. Such a lovely, energetic ball of fun. I can't get enough of her.
Hey Cathy:
Checking in! Radleigh and Arden are doing well. Arden is just an incredible animal. We love her more and more everyday. She's fairly petite, but I love how dainty she is. We work with her constantly and her obedience is amazing. She loves to please.
Georgia and Ruhler's pups are stunning. I've been following their development. Georgia is one beautiful dog. I've attached some pictures.
I hope you're well! Take care.
Natasha
Hey Cathy:
I hope you're well! I thought I would send some photos of Arden. She's as beautiful as ever. She's just a ball of energy, but an absolute joy. She had a difficult time following her spay, but thankfully, she is back to her usual self.
The first photo is reminiscent of a picture you have of Georgia on your web site. Everyone comments on what a stunner she is.
Take care.
Natasha
Hey Cathy:

Thought I would forward some pictures of Arden! I can't believe they are over six months...seems like just yesterday we saw them for the first time. I think she looks a lot like her father. Her personality is unique. She's incredibly cheeky and playful; just a ball of energy. Her favorite past time is playing catch. We are trying to get her used to swimming though that's a work in progress. She does a lot better if I'm in the water with her.
Hope you've been well.
Hey Cathy:
16-week update! Arden is such a looker! She's doing so well and learning so much everyday. We love her to pieces. We're teaching her obedience and how to jump and it's so amazing when she 'gets it.'
She is 31.5 pounds and very long! Hope you're well and all your new pups are happy and healthy.
I'll speak to you soon!
Natasha
Hey Cathy:

It's been a little while! I wanted to send you some updated pictures of Arden. She is beautiful. She learns more and more each week. She's very smart and nothing brings us more happiness than when she has a little prance in her step when she understands something. Crate training is going well, though she still has a few accidents here and there. She is fascinated by all the dogs in the neighborhood and wants nothing more than to catch birds when she sees them flying. There are days when she drives me crazy, but I love her to pieces and am so grateful to have her in my life. It's hard finding a balance between loving them and trying to be the boss, but we are getting there.
I hope you're well. Thank you again. I'll be sure to send more pictures as she gets older!
Natasha
Hey Cathy:

Wanted to give you a quick one-week update. Arden is doing really well. She and the kitten, Roan, are completely smitten with one another. We've started training with her and she is as smart as a whip. She's quite cheeky. I have to separate her and the kitten sometimes so she remembers I exist! We love her dearly; she's a sweetheart. She and Radleigh had their play date on Saturday and they'll see more of one another soon. Accidents are down to about one a day, which is great, and crate training comes in waves, but we're getting there. Thank you again for an amazing addition to the family.
Natasha

I cannot tell you how much I adore Arden already. She and the kitten are very playful together. She's smart, outgoing, and such a little ham. Seeing her when I picked her up tugged on my heartstrings after losing Fairin, but I can know this little pup will be an absolute joy to watch grow.

Thank you again, and I'll continue to send you updates.

Natasha