Males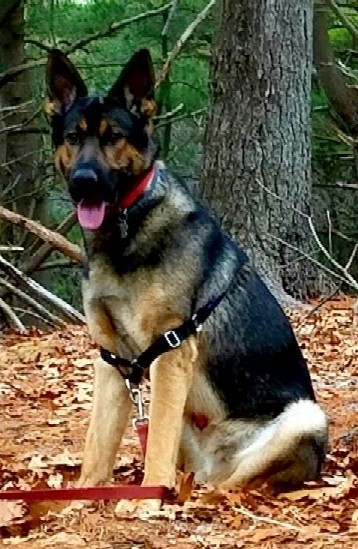 Black Ribbon Sable Male "Asher"
Hi Cathy,
"Asher" has been doing very well. He is very smart! He knows several commands already - sit, down, stay, come, paw (right and left, though he sometimes gets confused on those and gives each just to make sure– lol!), knows kennel up too. He is very food motivated, so he loves to get that kibble or two for his work. He also sits and waits to the count of three and then "GO!" to go get his ball or toy! He loves frozen carrots, frozen banana slices, frozen sweet potato slices and frozen dabs of whole plain yogurt for special treats. He is not that keen on the Kong just yet – (got the large red one) but maybe it is a bit too big and hard for him right now. We have gone on several trail walks and knows exactly where to go by following the scent of others, he especially knows the way back too, he pulls me right along the correct trail back! Walking on leash is still a work in progress! He does test limits at times, especially started this week, by being a bit too mouthy or fresh - an expected puppy stage. I ran in into Carol the Newbury Dog Officer at the dump recently, she met him and I was bragging about him to her. She said she had several dogs in the past from you and Linda.Merry Christmas!
Diane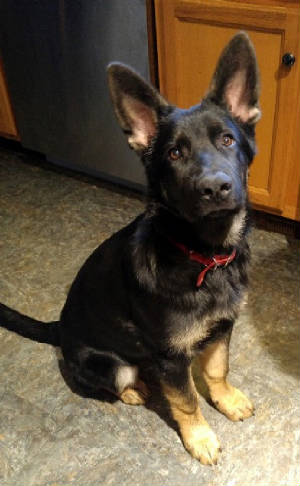 Blue Ribbon Black & Tan Male "Jett"
Hi Cathy,
Wanted to send you an update on our awesome pup Jett. He is such a special dog, so smart and loving. He learns so quickly and knows all of his basic commands. He's going to be a big boy, I think, as he is already 45 lbs. at 17 weeks. He can certainly hold his own with our other Sheperd, Gypsy, who is a big girl! They love to play and it gets pretty crazy when they decide to play inside! We will be going to classes soon to work on more training. Thanks again for such a beautiful companion!
Julie & Paul
Hi Cathy,
Jett is getting so big! He weighed 19.4 at his vet appt. today at 11 weeks! He is so smart, already knows his "sit" command and loves to retrieve his ball. He goes to work with Paul and meets lots of new people everyday! They all love him and so do we! We couldn't be more pleased with our little guy.
Wishing you a very Merry Christmas and a Happy New Year!
Julie & Paul
A new pic. We just love him so much!
Julie & Paul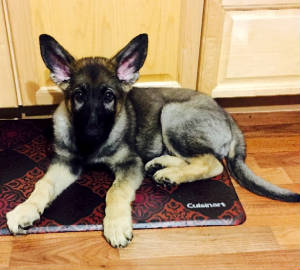 Green Ribbon Sable Male "Jasper"
Hi Cathy,
Can't believe it's already been one month since we picked up our puppy from you. Hope that your holidays were enjoyable! Jasper, has been growing so quickly, it's truly amazing. He took some time to potty train, but we've finally have trained him to go outside. The kids love him dearly, and so do we!! The other pets( Chihuahua and cat) are still getting use to himJ
He has really filled our days with lots of energy and love. He checked out great at the vets and we are planning to have him trained by a trainer in the area very soon. Hoping to make great choices with him. He loves his walks and visits to his great-grandparents. They have dogs too and lots of running area.
Thanks again for such a great addition to our family!!
P.S. Any ideas for his teething??
Danielle and Derek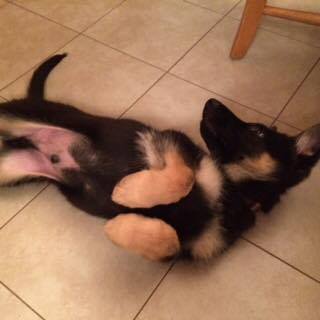 Grey Ribbon Black & Tan Male "Duke"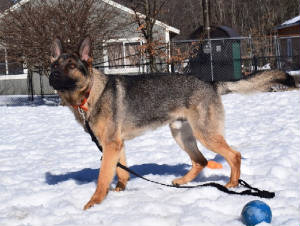 Red Ribbon Sable Male "Utah"
Hi Cathy
Here is a current photos of Utah at 8-months...he has become a real ball lover, just like his Mama :)
Hope all is well...Adam
Cathy,
Hi.
Hard to believe, but Utah is six-months old already...attached is an updated photo.
He is still doing well. He is a little more challenging in his current phase because of both his developing size/strength and his growing intellect/curiosity.
Hope all is well...Adam
Hi Cathy,
Here is an updated photo of Utah at 4.5 months...he is closing in on 40lbs and is getting very strong...thank goodness he is so well tempered!
Love seeing the updates from his litter. It is often striking how you much can tell he and his siblings are related the more they grow. I have referred folks in particular to the next planned Josie&Sam litter...a great combination!
Hope all is well...Adam
Cathy,
Hi...attached is updated picture of Utah from today.
He weighed in at ~26lbs at his Vet appointment this week, and is still doing great!
Hope all is well...Adam
Cathy, Hi.
Utah has been a member of the family for a few weeks now, so we wanted to send you a quick update on how he is doing with a few recent pictures.
He has been a great addition to the household!
He is smart, loving, and athletic. He has handled the transition to our household admirably, especially when considering that we brought him home the day before the start of all of the Thanksgiving festivities, as well as the unleashing of all of the annual Christmas decorations--(nothing like introducing and trying to teach an 8-week old puppy the rules of the house, while simultaneously putting up the household Christmas tree adorned with copious lights and ornaments, which must look the worlds greatest "chew toy" in his eyes!).
Crate training has been going very well. From really the moment we brought him home, he has independently gone into his crate during the day for a "self-imposed" break--(I am sure that has little to do with our 9 and 5 year-old's constant interest in him). After the first two nights of being understandably upset/uneasy in the crate, he has continually become more and more comfortable in the crate, and we are now at the point where he goes into the crate at bedtime and remains there without compliant for ~8-hours until it is time for breakfast in the morning.
His most impressive feat to-date occurred the weekend after we brought him home: our 9-year-old had a sleep-over birthday party at our house with 6 friends, and all of the kids were moving together throughout the house in a great torrent of excitement and enthusiasm throughout the evening. Utah was right there in the middle of the chaos, often being "mauled" with "lovings" from the kids, and he handled it just beautifully...unlike Dad, he was not overwhelmed amidst the mayhem. It really showed how much he enjoys people, which is a most welcome trait for us. As a result we have brought him into the kids elementary school for visits several times now, which he absolutely loves.
Thanks to you and your breeding operation for providing us with our great little--(for another few weeks anyway)--puppy!
The Mann Family
Orange Ribbon Black & Tan Male "Strider"
Hi Cathy,
Never seen a dog who better enjoyed the snow. He's like an alligator whipping his head back and forth like a shovel, then rolling around in the snow. He's super affectionate, and is now starting some guarding behavior. We are taking him to puppy obedience where he is a star. Gets it so quickly. What a great dog!
thanks,
Rich and Wendy
Hi Cathy,
Doing great, name is Strider and he's excellent. Will snap some photos maybe when he's sleeping, otherwise always on the move and charges with love when I get low enough to take a picture.
He's pretty slim, so we've increased food (wellness giant puppy at this point) to 1 1/2 cups three times daily. Vet says he's great and all is well. He has another appointment soon and will start puppy kindergarten next week. He is house trained and sleeps until 7 or 7:30 each morning now. What a blessing. Also, he is very friendly with all sorts of people and yet has started his warning bark at stuff he just hears, or sees at a distance until he feels comfortable. Perfect.
I got up at 6 am for an early appointment, and he slept in until 7!
So, he's wonderful, and thank you so much. Photo on the way.
Rich