Males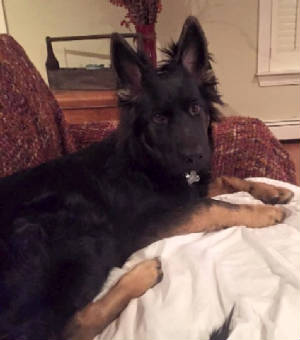 Blue collar male "Dante" Sold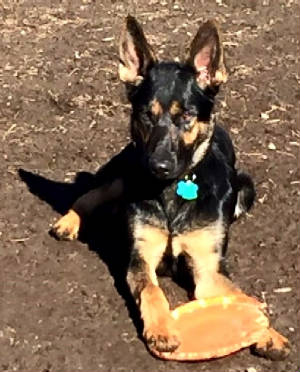 Green collar male "Baron" Sold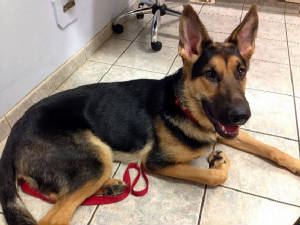 Red collar male "Odin" Sold
Hi Cathy!
We hope you had a wonderful holiday season. It's been a while since we gave you an update, sorry about that. Odin (red, Sam&Rio) is doing great. He loves to be outside, go for long walks, and play catch. His training is going well - still a lot to improve on but we are getting there. His teeth are so strong it has been hard to find appropriate toys, but we have been having success with Nyla and benebones recently. He has been going to daycare 1 or 2 days a week for socialization and loves it. When we see another dog on the street he is constantly barking because he is so excited to go play with them, but his bark is scary and he sounds so mean! However, he is quite the opposite - such a friendly and good tempered pup. He went to the vet yesterday and weighed in at a strong 60lbs, I am so curious to see how big he gets since he is still so skinny. We can't thank you enough for breeding such wonderful puppies, he has been an incredible addition to the family. Who knows, maybe we will eventually get him a sibling!
Hope all is well,
Shanna and Tommy

Hi Cathy and Terri!
We wanted to give you an update on Red, now known as Odin. He is doing great, loving his new home - and we are loving having him. He loves to be outdoors and does so well playing with older and bigger dogs; he has no fear.
He is definitely teething, and chewing everything! He loves all his toys and bones, and still plays with the toy he was sent home with often.
We went to the vet the other day, and I wanted to let you know that his second testicle never descended, and he has an umbilical hernia that the vet says he was born with. The hernia will need to be fixed when it comes time to neuter him, or it could/will turn into a tumor. He has gained 7 pounds since coming home, and is doing well otherwise.
We can't believe it hasn't even been a month of taking him home yet, he is already such a large part of the family! I don't know how we ever went without him! :)
I hope all is well, I attached a few pictures for you to see.
Shanna and Tommy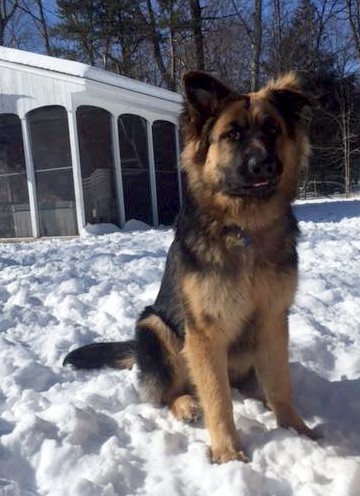 Orange collar male "Fritz" Sold