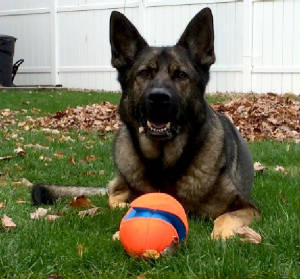 Hi Cathy ! Just wanted to send you a picture of Bart he is from Baila and Buck 2009 litter. I see he has some handsome brothers on this page as well ! Bart is the most well temperament dog he is so wonderful with everyone and any animal he comes to meet he really is the best dog in the world ! He brings so much happiness and love in our lives everyday ! He is crazy about anything that in the shape of a ball and or is named ball lol! I just wanted to follow up it's been a few years and show you a pic and Thank you for raising and breeding such wonderful dogs !!!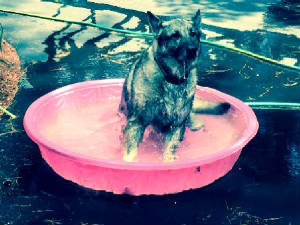 Fairin (Becci & Gus)
Cathy
You won't remember me but my wife Lisa and I bought a puppy from you back in January 2004.
We named her Fairin and communicated with you for some time after bringing her home.
Very sadly we had to put Fairin down recently due to her failing health from a tumor on her liver and spleen and this was one of the hardest things we've had to do.
I actually wanted to thank you again – Fairin was not only a remarkable pet but also a loved one that we'll miss terribly. We couldn't have asked for a kinder, more loving companion these past 11 years. Our kids grew up with her and she gave us countless days of love and loyalty.
I've attached a couple of pictures of her with the hope that maybe you'll remember her. As 'quirky' as she was in so many ways everyone that met her fell in love with her.
It's already difficult at home not having the comradery of a dog and I'm hoping within the next couple of months we'll be ready to bring in a new puppy to the house. Once we decide to do so you'll be the first stop we'll make.
If you have any litters that might be ready around September/October please let me know so we can keep it in mind.
Once again thank you for bringing Fairin into our lives – she's irreplaceable.
Regards
(Of course I remembered them & Fairin:))