Black ribbon black & tan male "Otto"
Happy first birthday to this lovable beast!! Yeah for Otto!! Weighing in a heathy 84 lbs and growing strong!!
Hi Cathy,
Otto will be going for another check up 4/30. I'll keep you posted for now. As of now he is doing well. He is my cuddle buddy ❤️ Don't worry he still knows I'm the boss.
Take care,
Christina
Otto is doing great! Settled right in. Thanks so much!
Christina
He is doing awesome. He howls like crazy when he is alone but he is adjusting. He likes his crate and goes in at will. He is also doing well with potty training. Not accidents yet today! He is a great dog thus far! Of course I posted pictures on Facebook and I have referred a couple of people your way.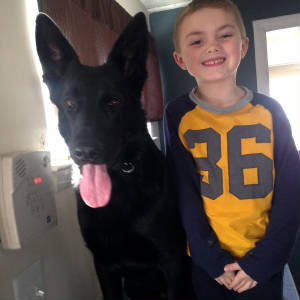 Green collar black male "Wolf"
Here is Wolf (1 years old) and my son Kane.. Yes the dog leaps into the kitchen counters lol
Here's Wolf at 8 months, he's doing great!
Hi
Wolf is great.. Such as easy puppy.. He's at 34 pounds! We love him!
Best Friends.. This dog was not shy at all. Bella has been good with him.
Orange ribbon black male "Ruger"
Hi Cathy,I wanted to give you an update on Ruger. He is on the probiotics and sensicare, as you suggested. It is going amazingly, he finally put back on the 10 lbs he lost! He is completely back to normal! Thank you for all your help regarding that. I'm not sure how much he actually weighs now because he is a BIG baby and pees himself when he knows we are going to try and weigh him on the scale at home, he's quite the character. I no longer crate him during the day and he just hangs out! He only destroys things (occasionally) when I am home, but never when I'm not home... so I guess that is good! He hasn't been neutered and I think we will wait awhile because he is such a good pup. No aggression or marking, although he did go through his touchy time! He is really the most well behaved little guy and has such a personality. We love him! His agility instructor is so confident in him as well, she always lets the other classmates know how nice he is even though he looks and sounds so scary, haha! He will be starting advanced agility in a month or two, he loves it once he focuses on what he is doing. Anyway, I hope things are going well for you.. I am always looking at the pups on your page, they are all beautiful! I can't wait to get another someday. I attached a few pictures, he will play fetch until he died if I would let him! We go play every morning, it's his favorite thing!
Best, Emily and Nick
Hello Cathy,
I just wanted to send some pictures and let you know Ruger is doing great! He has hiked 16 of the NH 48 four thousand footers (we have done 31 and are planning to bring him up all the ones he has missed!). He absolutely loves hiking, he becomes a different dog when he gets out of the car to go on a hike! We recently got him his own backpack that he carries with water and food. We also started agility, we have only been to one class- our second is tonight. He does very well in class even though he is the biggest, clumsiest dog there ha-ha! He has been the best dog we could ever ask for! We want to get another gsd in a year or two and will definitely be coming your way!
Hope you had a great holiday and are doing well,
Emily and Nick
Hi!

I have some pictures of Ruger for you. He is truly the sweetest dog and has such a good heart- everyone who meets him, including dogs, love him! He's such a happy boy and very well behaved :). He goes to puppy daycare a few times a week and we've put him through two training classes and plan to get him into agility when we have more free time! He weighs 73 pounds at just over 8 months old. We love him!
Hope all is well!
-Emily and Nick
Hiking in the white mountains! He loves it :)
Ruger hiking! Nick and I are very happy with him :)
Cathy,
Here are some pictures of Ruger, he's growing so fast!
Hello,

Thank you so much for our adorable puppy, Ruger!! He was very shy at first, but within a few hours he was running around exploring! We walked him on a leash and he was soooo good, he followed right next to our feet! He is such a cuddle bug, we're so happy and he is too!!
I already took tons of pics, so I figured I would send some :)
Thank you again,
Emily and Nick ​
Blue ribbon black & tan male
Hi Cathy-
Just checking in regarding Bruno. He is doing well. He is
close to 50 pounds I believe. I finally got a smartphone and took a bunch of
photos and I believe I sent you one or two. Pretty much no more accidents in the house.
Paul
Red ribbon black male "Bingo"