5 Females
Pink Ribbon Female "Nova"
Red Ribbon Female "Naya" (right)
Naya, aside from the loss of Ollie, is doing great and still an absolute frisbee fiend!!
Hi Cathy!!

I've thoroughly enjoyed looking at all the puppy pics (so far) this summer! You must be insanely busy!!! Aunt Naya wanted to say hello to her niece(s) and nephew(s).

Naya is doing great and is a love. I am so grateful for having her!! Here is a recent photo...
Can't wait to see more puppy pictures- especially from our family litter! LOL

Kind regards,

Dania
Hi Cathy,

Naya is so amazing! She knows her name (although sometimes I wonder if she thinks it's "good Naya"!), sit, down, stand and come. She's walking great on leash and we've been doing lots of socialization. She is super smart and gets along so well with her big brother. I love her so much! Thank you!!!
Dania

Hi Cathy,

Here's a pic of Naya on her first birthday (21MAR13). She is such a love and and brings so much joy to our home. She is also a natural peacemaker too. Whenever she hears upset voices, even on the TV, she'll bring toys to make sure everyone is ok- a natural born emotional support dog!

Her favorite game is Frisbee. She not only knows the word but can pick it out in the middle of a sentence and now knows how it's spelled too!

Thank you for such a beautiful girl, inside and out!

Kindest regards,

Dania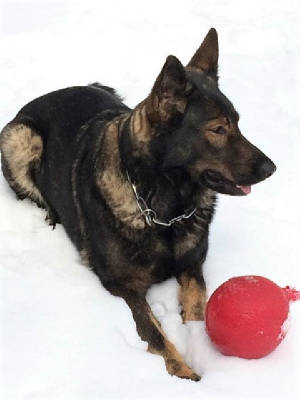 Hi Cathy! I wanted to send you a few update pictures for you to post of Kirsa. I sent the one that your son is working on drawing for me! I always like to thank you for being who you are and doing what you do!! Kirsa has been a joy to have and a great addition to the fur family. This girl is through and through a love! Kirsa is loyal to all, social, fun, playful, smart but LOVING and LOYAL is her strongest personality traits!. I have to say all the girls (Greta, Kirsa and Una) love everyone in the family ....Kirsa shows a more deeper connection to me! When I am home she is at my side everywhere I go. Well LOL the other girls are with me ...Kirsa has to be touching me ....we joke she is my fluffy slipper always at my feet! As I type this she is at my feet the other girls all around! I feel truly loved by all of them! When I am not home Kirsa is somewhere snuggles up with one of my sons! Kirsa is not needy at all just a very loving passionate girl! Kirsa isn't only loving to us but is truly loving to the girls Greta and Una ...she is always snuggling, bathing, kissing and playing with them.
Melissa
Hi Cathy! Hope all is well with you. Think it's been 6-9 months since I sent any pictures of the girls (Greta Lrg lighter sable and Kirsa sm dark sable). I Love my girls to pieces. They are like Velcro!! They both love to play fetch and play around in the yard with each other. They have new sisters...11 hens...I think the girls think they are chickens ....Some like running with the bulls ...my girls like running with chickens! LOL! The girls have been great with them since the chicks came. My dad still can't believe that they don't try to eat them! The girls love to eat the left over broccoli and cabbage in the garden with the chickens. Hope you enjoy the pictures! If I find anymore I will send them your way.
The Frohnhoefer's
Hi, Cathy! All is well with Kirsa! Kirsa, Greta and my old dog Lucky have adjusted well. My old dog Lucky (10 years old) is glad to be able to slow down. Greta is happy to have a sister to play with. Kirsa and Greta think that life is just one big fun fest! Greta is quite the big sister.....she steals all of the toys on Kirsa. Greta mastered the chase me little sis game and Kirsa falls for it every time. Kirsa has also figured out how to take short cuts to get to Greta during the chase game. They are a lot of fun! They are always doing something to make us laugh. Training is going very well, she is very studious. Her 1st vet check went great, she weighed 20.2 lbs.
Hi, Cathy! I just wanted to give you a update on Kirsa. Things with Kirsa are going great..... she is loving her new home. Her big sister Greta loves having her little sister to play with. Kirsa and Greta have a great bond! Sometimes, I think Kirsa thinks Greta is her mom. Kirsa's training is moving right along quite nicely.
It does help that she follows the lead of Greta and Lucky.
Kirsa's last vet appointment (
8/11/12)
went wonderful and she weighed in at 47 pounds.... WOW! The vet said she looked great! I do have to say, I think she is going to be bigger than Greta! I hope all is well with you.
Wow! I have mentioned to my husband before your email how much
Tikka
and
Kirsa
look a like. I had him look at the picture of
Tikka
, he thought it was
Kirsa
! I find myself every day popping on your website to check and see whats going on with your breeding
program
. I wish we lived closer to you to take advantage of all you offer (training, boarding services and just to stop in to have you see the girls!) It is
truly
amazing how intelligent your lines are! I know you have put your heart and soul into your breeding program. Thanks for the hard work, love and dedication!!
Yellow Ribbon Female "Franka"
Hi Cathy
Today marks two weeks with Franka and she is AWESOME! She is getting bigger and bigger, she can sit (setzen) on command, she did great in her first puppy kindergarten class. She is a dream in the crate, and sleeps through most of the night. Very few "accidents" in the house, just pee...goes outside (and in many cases lets us know she needs to go outside) for everything else. We absolutely love, and I can't stress enough how much we LOVE her. Franka is shaping up to be a great dog a true testament to you and your dogs. We can't thank you enough! Here's a recent picture...
Have a great holiday!!
Gab and Darryl
Hi Cathy
Wanted to give you an update on our little...well not so little any more...Franka. She's doing great. Loving the city and the country. Sure she's mouthy, and a bit rambunctious, but she's also quite adorable. She's become quite the celebrity in our neighborhood, people marvel at how beautiful she is. Franka completed her puppy kindergarten with flying colors and is learning new stuff daily. We absolutely love her! Hope all is well with you and yours.
Darryl and Gabrielle.
Hi Cathy,
We wanted to send you a new picture and give you an update on Franka.
She is awesome!!!! Housebroken 2 months ago, learning new things everyday, loves other dogs, and loves people. In short, an absolute joy. She enjoys playing ball, is working with a K9 trainer, and is an incredible companion. She loves being with the pack (us!). Here's a picture of her on the beach a few weeks ago up in VT.
We are so happy she is in our lives and our family!!!
Thanks and have a great Holiday Season.
Gab and Darryl
Light Green Ribbon Female "Tikka"
Tikka is currently training for Service Dog work and Obedience with my son Michael. She is very intelligent and training is moving along quickly. She has excellent drive & temperament, great working dog as well as family companion. She is excellent with my 6 year old grandson and any situation you put her in. We are very happy with Tikka!