Looking for an all natural safe insect control product? CedarCide is the answer! This product is safe for pets and people and will kill or repel most annoying insects such as ticks, fleas, mosquitos, flies, chiggers and more. Click on the logo below for more info.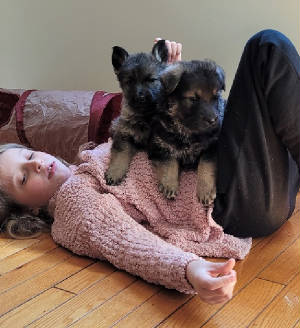 Cathy & Jada Von Barren Berg
From time to time people tell me, "lighten up, it's just a dog", or "That's alot of money for just a dog". They don't understand the distance traveled, time spent, or costs involved for "Just a dog". Some of my proudest moments have come about with "Just a dog". Many hours have passed with my only company being "Just a dog", and not once have I felt slighted. Some of my saddest moments were brought about by "Just a dog". In those days of darkness, the gentle touch of "Just a dog" provided comfort and purpose to overcome the day.
If you, too, think it's "Just a dog", you will probably understand phrases like "Just a friend", "Just a sunrise", or "Just a promise". "Just a dog" brings into my life the very essence of friendship, trust, and pure unbridled joy. "Just a dog" brings out the compassion and patience that makes me a better person. Because of "Just a dog" I will rise early, take long walks and look longingly to the future.
For me and folks like me, it's not "Just a dog". It's an embodiment of all the hopes and dreams of the future, the fond memories of the past, and the pure joy of the moment. "Just a dog" brings out what's good in me and diverts my thoughts away from myself and the worries of the day.
I hope that someday people can understand it's not "Just a dog". It's the thing that gives me humanity and keeps me from being "Just a woman".
So the next time you hear the phrase "Just a dog", smile, because they "Just Don't Understand".
"Our Dogs Leave Pawprints On Your Heart"
Chevelle & Kasch with the kids

"Life gets sweet just as soon as you ban all sarcasm and meanness from your repertoire. Furthermore, there is no reason to hang around anyone who dwells in these nasty tones."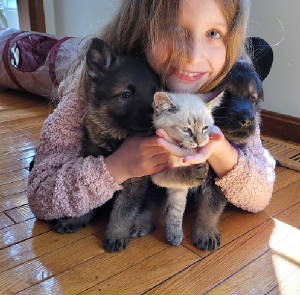 My grand-daughter loves playing with the pups and our new kitten.
Zima & Kasch Von Barren Berg
A little humor....

10 Reasons I started Breeding

10. Thought the house was too orderly
9. Never did like having a full night's sleep
8. Wanted my Vet to get a new BMW
7. Thought the furniture looked too nice
6. Love the sounds of puppies in the morning, noon, afternoon, evening, midnight, pre-dawn, etc.
5. Garden and backyard needed renovations, and didn't want

to pay a gardener.
4. Neighbors didn't complain enough
3. Kids weren't enough of a challenge
2. If you can train & show one dog, why not ten
1. Wanted to see if spouse really meant those vows